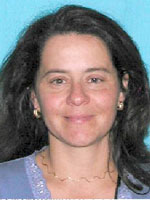 Nazira Maria Cross is on the FBI's most wanted list. Please contact the US Embassy, Consulate or FBI if you have any information regarding Nazira Maria Cross.
A $1,000,000 (One Million Dollar) reward has been issued for information that leads to the capture of Nazira Maria Cross, a Costa Rican National who may be hiding from United States Law in Costa Rica or Peru with her two children Runar and Natasha.
The Million dollar reward was issued by a judge in the state of California. Nazira Maria Cross has allegedly murdered her ex-husband Mike Cross, after he discovered that she was embezzling thousands of dollars from their mutually owned business.
On July 31st 2008, "The Black Widow" allegedly poisoned Mike Cross and drove him while dying (in near-death condition)  to their property in Lovelock, Nevada where she buried ner newly ex-husband and repeatedly ran over the grave site with her car.
On March 25, 2009, a criminal complaint was signed and filed in the Superior Court of California, County of Plumas, charging Cross with one count of murder, and a state warrant was issued for her arrest. On May 14, 2009, a criminal complaint was filed in the Eastern District of California, Sacramento, California, charging Cross with unlawful flight to avoid prosecution, and a federal arrest warrant was issued.
She is to be considered armed and dangerous as well as an escape risk.
Nazira Cross may go by the names: Nazira M. Ugalde, Nazira Maria Jonnson, Nazira Maria Ugalde, Maria Ugalde Alfaro, Nazira Jonnson.
Last known description:
Born- November 23rd 1965
Nationality– Costa Rican
Sex- Female
Race- White(Hispanic)
Hair- Brown
Eyes- Brown
Height- 5'6"
Weight- 150 lbs
NCIC: W666532991
Occupation- Professor
If you have any information concerning this person, please contact your local FBI office or the nearest American Embassy or Consulate.
Source: FBI