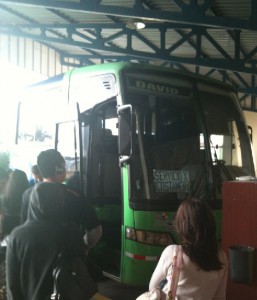 The Costa Rica Star has recently published information about receiving your permanent residency in Costa Rica to avoid border runs, wasting time, and money.
A few dear readers recently sent questions regarding a number of immigration affairs that visitors to our country regularly experience.  We have consolidated the relevant questions and answered them in this article for a more convenient reading experience.  Please note that the information below is not meant to be legal advice.  Immigration issues are legal proceedings that can be better handled by Costa Rican attorneys.  Thanks to our democratic roots, we are free to discuss our public laws and administrative rules, which is what we are doing here.
We thank Greta and John for their questions.
– If a foreigner has a child within Costa Rica does the child automatically become a citizen and does this help with increasing the mother's chances of getting permanent residency?
Here's what our laws states about your question:
Title II, Article 13, section 3 of our Constitution states that a child born to foreign parents in Costa Rica is considered a Tico unless he or she renounces such citizenship after coming of age.
Title II, Article 78 of Law 8764 as it pertains to Immigration and Foreigners, states that parents and other first-blood relatives of Ticos have the right to apply for, and be granted, Permanent Residence.
– Is there any way to stay in Costa Rica without a residency permit for more then 3 months? If so how does this process work and how much does it cost?
The three-month period that so many people talk about refers to the automatic visa granted to tourists who carry passports issued in "Group One" countries, which include countries in North America, the European Union, and several others.  The best method for a visitor to ensure that a three-month visa is available is by contacting the Costa Rica Embassy or Consulate in his or her home country, or contacting our local Immigration authority.
Law 8764, as it pertains to Immigration and Foreigners, unintentionally creates the "perpetual tourist" immigration status that many foreigners take advantage of.  The relevant section of the law is Article 33, section 3, which directs all foreigners to exit the country upon expiration of their visas.  That section states tourists must either exit the country upon expiration of their visas, or else pay a fine equivalent to $100 for each month overstayed.  Failure to abide by this section could prevent the tourist from getting a visa for a period equal of three times the amount of time overstayed. 
This fine does not apply to minors, refugees, or disabled elderly persons.
The law does not explicitly prohibit tourists to stay away for any length of time, and thus perpetual tourists can take advantage of this.  The law does question foreigners who intend to make their stay a more permanent affair and fail to apply for temporary or permanent residence.  There are several situations -other than marrying a citizen- that merit the issuance of a residence permit.  Professionals, journalists, investors, and employees of certain companies can modify their status from tourists to residents.  For more information on these matters, please contact Immigration, an attorney, or the ARCR.
The law presents a couple of provisions that can be utilized to extend a foreigner's stay in the country; however, as with several of our laws, the enactment and implementation processes have not gone smoothly.  The law became effective in August of 2010, but the pertinent administrative rules were not printed in La Gaceta until September of last year.  The kinks are still being worked out, and thus tourists should -by law- be able to extend their visas at the Main Immigration building near La Uruca.  Attempting to do so at this time only results in much confusion, which is one of the reasons why perpetual tourism is still widely practiced.  What we know thus far is the extension will have to be requested at least 48 hours before visa expiry, and that it will cost about $25.
The Migratory Patterns of Perpetual Tourists to Panama
Panama has become the destination of choice for perpetual tourists who go on 72-hour "visa runs" every three months or so.  The visa run can be accomplished by exiting the country at any border control points, but Paso Canoas has become the favorite for many reasons.  The 72-hour "cool-off" period applies to people who are going shopping across the border (particularly to Panama where everything's incredibly cheap), and who are trying to enact their tax exemption opportunities.
By law, a tourist could simply walk across the border in Paso Canoas and immediately return to get the coveted entry stamp on their passport, but such a move could be considered rude and in bad taste by Immigration authorities.  This is another reason why perpetual tourists choose Paso Canoas as their favorite visa run destination:  Immigration and Customs personnel stationed there (the Ticos, anyway) are known to be more efficient and relaxed than their counterparts at the airports and the northern land border with Nicaragua.  Staying in Panama for three days stimulates cross-border tourism and the economies of both countries.  Besides, Panama offers three major tourism destinations:  Bocas del Toro, David, and Panama City.
The preferred mode of transportation of perpetual tourists is by bus.  The services provided by TicaBus and Tracopa are cheap, reasonably comfortable, and scenic.  TicaBus prides itself in having the most luxurious bus fleet in Central America, and it shows.  Its buses, particularly those that take passengers on its "Ejecutivo" route, have toilets, movies on DVD, meals served on board, and comfortable reclining seats that let passengers stretch and sleep.  Tracopa recently added new buses to its fleet.  Both bus lines depart from their respective terminals located near downtown San Jose, and their schedules are posted on their websites and Facebook pages.  TicaBus allows reservation and ticket purchases online, but cannot be relied upon.  It is better to call either bus line ahead of time to find and inquire about seat availability, and then purchase tickets well in advance; this is the only way to guarantee seats.
Details
Round-trip tickets cost between $74 and $100.  Immigration authorities in Panama will turn away any tourists who do not have a bus ticket returning to Costa Rica.  Passengers can expect to be on the road about 6 hours from Costa Rica to Panama, and depending on the speed at the border crossing it could take longer. As for what to do once in Panama, Bocas del Toro is a popular destination for beach bums and ecotourists.  The David experience is similar to rural Costa Rica, only a lot cheaper.  Panama City is a very cosmopolitan experience, similar to Miami but with the impressive Canal, plus a lot more shopping malls and casinos.
When shopping in Panama, it's important to remember that there is a 5 percent sales tax that is not included on price tags.  Tourists enjoy an exemption if they flash a valid passport at checkout time.  Bargaining is almost expected, but only at small shops.  Big department stores such as the ones at the behemoth Albrook Mall will not listen to bargain offers, and will in fact consider them in bad taste.  Colones are not accepted in Panama.  To avoid paying import taxes when crossing over to Costa Rica, stick to shopping at duty-free zones such as Colon.  The malls and shopping districts in Panama tend to be safe and heavily guarded, but extra precaution should be exercised on the city streets.
Budget travelers can stay at the following hostels:
Bocas del Toro:  Bocas Aqua Lounge
David:  Bambu Hostel
Panama:  Luna's Castle
Some Tico travel agencies also organize bus trips to Panama; these are mostly taken by Tico shoppers who often find Made in Costa Rica brands and products at lower prices across the border.  These tour packages are rather good deals at less than $200, and they include ground transportation, guided tours, and lodging for three nights (hotel accommodations, as Ticos tend to avoid hostels).