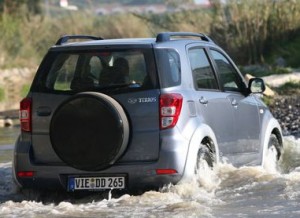 Here's the lowdown on one of the simplest, and best, cars you can find in the Costa Rican market: the Daihatsu Terios Bego.
Finding a car that can cope with the Costa Rican driving conditions is a pretty interesting challenge for those of us with fuel flowing through our brains. Should we go practical or ditch practicality (and money) for a great driving car? Potholes, traffic jams and fuel prices on the rise are a constant reminder that the choice we make could have a profound effect on our wallet.
So, why the Bego? Let's look at it for a second. It's no bigger than a king sized bed, it's got a small 1.5 liter engine and resembles an oversized hatchback more than an SUV. The suspension is rock hard; you can actually feel every single bump on the road, a cool sensation when you are in a racecar in La Guacima (also where Festival Imperial is being hosted this year) and not in driving down the twisting rocky roads on your way to Malpais. Wind noise, even with the windows up and full A/C, is pretty loud and you'll be lucky to push it past ninety on the highway. I'm a tall man, 6'4" and I've banged my head on the pillar a couple of times. All of this sounds terrible, doesn't it?
Well, it does, but at the same time, remember this car is not made to provide the driver with massaging seats, a talking computer than can tell jokes to pass the time or an Espresso machine on the back in case the weather is too cold. No, this car is for the road trippers. The comfort and power might not be there, but its small size, great range and simple engine make it reliable, fun to use and, most importantly, versatile for both urban and long range driving.
Technical Data:
A DVVT 1.5 liter engine powers the Daihatsu Terios Bego, producing about one hundred horsepower, just enough for this car. Load it to the brim with cargo or heavy passengers and you must be patient. Buyers can choose from the 2WD or 4WD versions, ABS or no ABS, and dual airbags or I hate my co-driver so he gets none; that's pretty much it. My advice: go for the top of the line range, you'll be grateful once you use the ABS and test that locking center differential. Remember the Bego doesn't have low-range gearing, or as we Ticos call it: La Chancha.
The car's entertainment system is reduced to a very simple, but great sounding, Hamann Kardon MP-3 radio with auxiliary outlet for your MP-3 player. What more do you need? Sound is crisp and quite powerful.
Is it cheap to run?
Yes, very. On average this car is just as expensive to maintain as its urban cousins: the Yaris Hatchback and Daihatsu Charade. Oil changes every ten thousand kilometers instead of every five make it very friendly on the wallet. The small rims mean getting new tires is actually quite easy and those on mine, after all this driving, are still looking great.
Average fuel consumption is as follows: city driving with A/C will result in 11 km/l or 26 mpg and highway driving with A/C will pike it to 15 km/l or 35 mpg. I have been challenged to get 900 km (562 miles) out of a single tank but haven't found the time to do so. Road trip anyone?
Can it climb walls?
Don't expect a Land Rover Defender but this car can handle most of the irregular terrain one can find while driving up and down Costa Rica. I've crossed rivers, handled rocky terrain and traversed through mud with relative ease. Don't think you're doing the Camel Trophy and you'll be all right. I hope.
Where to?
I have gone to Quepos, Parrita, Cuidad Neily, Palmar Norte, San Gerardo de Dota, Arenal, Nosara, Coco Beach, Jaco, Poas, Puerto Viejo, Siquirres, Orosi, Turrialba, Malpaís, Santa Teresa and Montezuma, so far, in my Terios.
Where can I get one?
You can go to the dealership and buy one, usually that's the simplest answer. On the used market, finding them shouldn't be hard, but bear in mind, most Bego owners won't let go of their cars so easily, until they are ready to be replaced, meaning they've probably traveled far and wide across the nation. Be sure to get a list of all the services the car has gone through and try to keep your target engine use under eighty thousand kilometers. Spares are available at the dealership or major stores, so you shouldn't have any difficulties on that department.
Final thoughts:
If you need a good car that can get you places all around the country, the Bego is right for you. Put aside the need for frills and thrills and this car delivers in almost every aspect. Just look at most car rentals and travel agencies: their fleet is mostly Begos and that's a great indicator.
Keep in touch as I review other cars and put my two cents on the matter. If you fancy any brand in particular, let me know.