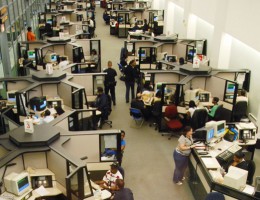 The international business consultant Tholons revealed in its most recent study; "The 100 best destinations for outsourced operations by 2012," that San Jose, Costa Rica is considered one of the top 10 emerging cities and ranks number 18 among the best in the world to outsource operations, business and information technology.
Second only to Sao Paulo, Brazil and Buenos Aires, Argentina, San Jose, Costa Rica was selected as the third best among the Latin countries. Additionally, in the overall global standings, San Jose is ranked 18 among the top 100 places in the world for outsourcing. The study was conducted with extensive research around the world, including cities that are considered to be leaders in Latin and South America.
Tholons noted in their study, that Latin America is emerging as the leading region for the establishment of outsourced service operations in the world and Costa Rica was highlighted for its future potential. This is because Costa Rica offers outstanding human resources and it has specialized high value-added operations, such as shared services in the areas of finance, accounting and information technology as well as emerging entertainment and media operations. The services sector in Costa Rica has been evolving, increasingly offering more sophisticated and value added services and it is well positioned around the world in the high-tech sector.
The study also indicates that during 2011, about 24 service centers were established in Latin America. These positive results arise from the growth of larger markets in the region and because Latin countries provide adequate conditions and competitive global business operations for multinational companies currently operating in the larger global markets, among them, Fortune 500 companies from India.
Costa Rica's Ministry of Foreign Trade, COMEX, is anticipating that in the coming years India will become a significant source of foreign direct investment. This positive interest is the result of a trade group visit to India led by Minister of Trade, Anabel González in March, 2012. They met with government officials and private enterprises to promote Costa Rica as a business destination as well as to promote trade between India and Costa Rica. According to Costa Rica's Foreign Trade Corporation, PROCOMER, Costa Rica exported $25 million to India in 2011 and imported $133 million and in 2010, Costa Rica's exports to India were $76 million with imports of $52 million. According to PROCOMER, the majority of the products traded between the two countries were; timber, computer parts, scrap iron and steel, oil seeds and fruits.
Fortune 500 company, MOTIF, has been operating in Costa Rica since 2010 and it is one of the 24 largest multinational companies from India. Five more of the largest "service sector" Indian firms are currently considering expansion into the Costa Rica market. The companies are attracted to Costa Rica for its proximity and time zone compatibility to the U.S. as well as the quality of human resources and the positive business climate.