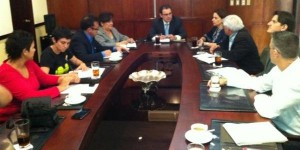 After successfully completing an unprecedented march in downtown San Jose, the Invisible Movement activists were able to meet with government representatives to advance issues related to the project of Societies of Coexistence, something Laura Chinchilla's administration had ignored so far.
The meeting took place yesterday at around 3 pm at the Presidential House with activists representing groups Beso Diverso, Diversity Movement, the Rainbow Foundation, and Shirley Alarcon, coordinator of the Invisibles movement.
The Presidency Minister, Minister of Health, and ex Social Christian Unity Party (PUSC) legislator Ana Helena Chacón, who managed to work as a mediator between the parties, sat at the table to negotiate. The group seeks equal social and economic rights for same-sex couples.
It is evident that The March of The Invisibles had a great influence in this first approach.
The march took place this past Saturday, June 16 at 9 am at Costa Rica's Central Park and drew nearly 5,000 people who showed up with brooms, detergent, rags, and buckets with water and literally washed the outside of the Legislative Assembly in a symbolic act intended to 'clean up' the Assembly of hatred, discrimination, and corruption.
The protesters took to the streets in a peaceful manner with banners and slogans calling for in-vitro fertilization, rights for same-sex couples, as well as a secular state, and the resignation of controversial deputy Justo Orozco, recently appointed as Chairman of the Human Rights Commission of the Legislative Assembly who through statements on television and in print has declared himself against the point of view of these minorities and their respective causes.
Some other political powers have expressed their commitment to the cause, such as presidential candidate of the ruling party, Johnny Araya, and Antonio Alvarez Desanti, who has posted messages and videos on his social networking profiles.
To ensure this project does not get ignored or pushed back in the future, all the parties involved identified July as the date in which they will sit down to discuss the future plans for this initiative and review the progress of the plan to promote equality for all Costa Ricans.