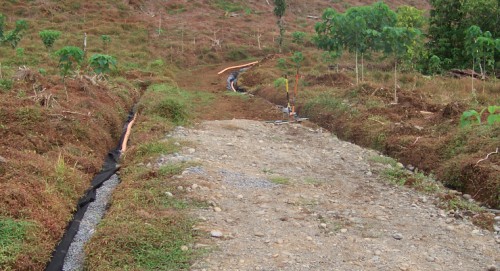 Welcome to the rainforest! Living and loving here is a dream, but not when your home or business gets flooded. All around our beautiful country there are well constructed gabion walls supporting hillsides for years. Gabion, from the Italian word gabbione meaning 'big cage', is a large, thick-wire basket filled with rocks, through which water can flow at a much reduced rate or be diverted around. Many of these retaining walls drain into deep concrete culverts for redirecting massive amounts of water. But what do you do when you are not a municipality with a huge budget? Year after year many ditches are re-dug and new mud is moved again from an area where the water doesn't drain well, and it's just another repeating expense that comes with owning land. Well, for a change of pace, why not install a French drain and not worry about it again for 20-30 years or a lifetime?
When Brian Hogue moved down here, he figured he'd learn from the locals how they do drainage here in the rainforest world. Surely they've got to be pros at drainage here. But every time someone showed him how they would drain the road to his property, it always meant he'd have to do it again in 2-3 years. He knew that wasn't how they did it on the family farm when he was growing up in Kansas, and it wasn't how he'd done it on his properties in California, so why initiate this kind of recurring expense here?
Maybe it's time to show the rainforest folks a better way.
It seemed everything was readily available but the drain fabric. After some searching, he did find the remnants of a roll stuck way in the back of Ferreteria 3R in Guapiles. Apparently someone had used it for lining gabions, but after that, no one knew what to do with it, so it got shoved into the back corner, almost never to be seen again. Upon his request, they dug it out and he proceeded to explain the simple rock and perforated pipe method as he'd done it for years. He demonstrated how the fabric is then wrapped around to keep the dirt and debris from infiltrating the pipe. The small crowd that had gathered around watched in awe as the simple process was laid out before them. You could almost see the light bulbs come on as they began to understand this seemingly common-sense procedure that no one had ever thought about; no one ever showed them. Many had previously used the drain pipe, but complained it always clogged, so they saw no value in it's additional expense. Now they did—now that they had a simple way to keep it clear and the water flowing…for years.
If you build it, they will come—it seems the word has gotten out and now Brian can't get any work done on his farm because every time he starts working, another engineer stops by to see the project first hand. They get a walking tour and a repeat demonstration of the original, first performed in the back of the ferreteria in Guapiles just a few weeks ago. One group of engineers even came back after a long night of hard rain to see how the project had weathered the storm. They were happily surprised to witness first-hand the huge flow of water through the rocks and pipes. There's sure to be an increase in sales of drain fabric and perforated pipes over the next few months.
Whether you choose the gabion, French drain or a combination; do it yourself or hire it done, you can accomplish this project once and be done for many years. Voila! But surprise! The French drain was NOT invented in France, but in Concord, Massachusetts by Henry French, a farmer, judge and Harvard grad who wrote a book on drainage in 1859! Sacré bleu!!!
What basics you will need for this project…
-Digging tools
-Drain fabric (Geotextil no tejido)
-Perforated pipe (Tubo drenasep ranurado)
-Lots of Small Rocks
Websites to help you:
EasyDigging.com
Landscaping.About.com
Gabions.net
Article provided by Susan Elliot.