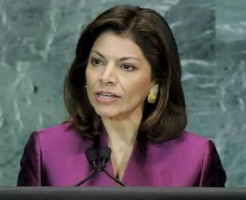 President Laura Chinchilla arrived in Berlin earlier today and was greeted with full military honors as well as protests from members of the Sea Shepherd Conservation Society (SSCS) and Paul Watson. The President of Costa Rica met with German President Joachim Gauck at the Bellevue Palace in Berlin.
According to news agency Prensa Latina, hundreds of Mr. Watson's mostly young sympathizers gathered in Berlin and greeted him as a celebrity, chanting "Free Paul Watson." Prior to his appearance at Bellevue Palace, Mr. Watson had given an interview to the Agence France-Presse, in which he explained that he has strong reasons to believe that the legal system in Costa Rica will not guarantee him a fair trial. He once again pointed out that the local chapter of the shark finning mafia in Costa Rica has placed a bounty on his head, and that our jails could give someone who would like to claim the bounty an excellent opportunity to execute. According to Mr. Watson, it is a matter of revenge by criminals, although a recent letter to his supporters indicates that he is not completely opposed to appearing in court:
"I would need absolute assurance that the Costa Rican authorities would not place me in the position to jeopardize my safety when I return to Costa Rica to prove my innocence in court."
President Laura Chinchilla spoke to reporters at a press conference in Berlin and assured them that if Germany grants the extradition of Mr. Watson, his trial in Costa Rica would follow standing international laws. She echoed the message of the Ministry of Foreign Affairs and other public officials in Costa Rica: there is a clear separation of powers in our country, meaning that the Executive cannot intervene in a Judiciary affair and vice versa.
The meeting between President Gauck and President Chinchilla concentrated on the issue of cooperation between the two countries in matters of education. The Deutsche Textservice Nachrichtenagentur agency reported on the meeting, in which President Gauck gave praise to Costa Rica's efforts in environmental protection, as well as her ability to promote peace in Latin America without an army. Our President will meet with Chancellor Angela Merkel later today.
Mr. Watson is currently out on bail in Germany, where he will continue to fight extradition. To find out more about the controversial founder of the SSCS and why he is facing extradition to Costa Rica, please read the previous articles and analysis that The Costa Rica Star has published on the matter.
Sources: 123 Recht and News Burger (Germany)