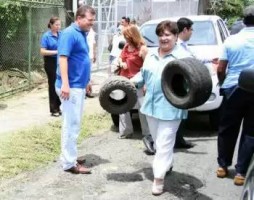 Earlier this week the Minister of Public Health of Costa Rica, Daisy Corrales Diaz, launched a national campaign to pick up scrap tires as part of a broader initiative to prevent the propagation of the dreaded Aedes aegypti mosquito, a known carrier of dengue fever. Minister Corrales did a lot more than simply announce the campaign: she pulled up her blouse sleeves and picked up a few tires by herself, as you can see in the photo herein, provided by the Ministry of Public Health.
With regard to the initiative, Minister Corrales explained that all families should get involved in this initiative by scanning their homes and neighborhoods to make sure that there are no breeding grounds for the dengue mosquitoes. She made the same call to employers and to municipalities, underscoring that the Minister will make available tools and supervision to ensure that breeding grounds are destroyed and the mosquitoes eradicated.
Minister Corrales will be visiting other regions of Costa Rica throughout the year in similar capacity.
At the inaugural day in Limon, the regional director of the Huetar Health Region stated the following:
"For us it is an honor to launch this campaign in the province of Limon, where the morbidity reports of dengue are negligible thanks to the public health system, but there is an economic impact. Scrap tires are the number one breeding spots for the dengue mosquitoes, which is why we will be picking them up all this week. We will do so again in August."
While Costa Rica has made excellent progress in the battle against vector-borne diseases such as dengue and malaria, mostly through education and prophylaxis, the fact is that our country enjoys tropical climate and dense vegetation -a welcoming proposition for vectors that carry dengue and malaria. According to Panama newspaper La Estrella, Costa Rica registered around 14,000 cases of dengue last year, compared to just 3882 cases reported by the Panamanian Health Organization (OPS in Spanish).
The key is in balancing prevention of outbreak with proper treatment. While Panama has the lowest rate of dengue fever infections in Central America, their mortality rate is significant: 16 deaths were reported out of less than 4,000 infections. In Costa Rica last year, there were no deaths resulting from dengue fever, but with more than 14,000 infections, the Ministry of Public Health remains vigilant.
Dengue is no longer a seasonal concern
Epidemiologists studying dengue in several regions of the world where significant progress has been made -such as Brazil, Costa Rica and the Philippines- have noticed that populations have certain misconceptions about the disease being seasonal.
The dengue-carrying mosquitoes have developed their survival skills and are no longer breeding exclusively in dirty pools of water formed in scrap tires. They can breed in just about any tropical climate on a year-round basis. Entomologists in the Philippines have noticed that mosquito infestations are frequently occurring around human dwellings. These mosquitoes are not waiting for daybreak or nightfall to engage in their biting behavior, either. It appears that their favorite time to start biting is before sunset.
The latest strategy to combat dengue is being tested in Panama. According to an article by Marlene Testa of La Estrella, scientists in England are breeding genetically modified male mosquitoes with sterilizing properties that will render females barren. Some environmentalists are not convinced that this genetic final solution will actually reduce dengue infections, and they are also worried about negative impacts to ecosystems. The experiment will take place in Nuevo Chorrillos and will last for a year.