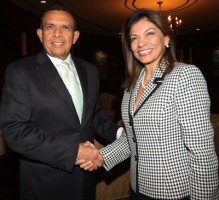 Honduras will be working on revamping their entire judicial system and national police force. No small task to be sure. But the need for such widespread measures is necessary according to many local people in the aftermath of recent U.S. backed Honduran raids against drug trafficking cartels along the Mosquito Coast.
The raids, targeting drug cartel activity, instead were directed at innocent civilians and neighbors. The people of the village are frustrated with authorities who oftentimes target the drug activity with little or no regard for the innocent people caught in the crossfire.
Elected to the office of President in November of 2009, rancher and political conservative, Porfirio Lobo has promised to mend the rifts in the country's political structure left behind after the ouster of Manuel Zelaya earlier that year.
President Lobo has established a commission to deal with the overwhelming effect of the drug cartels as well as those within his government who have fallen prey to the bribes assuring that they will turn a blind eye to the cartels' activities.
This high level of corruption has infected not just the police force on the street level, but has reached to the upper echelon of the judiciary as well.
President Lobo stated in an address to the media that he is aware that the corruption has accelerated at a dizzying pace and threatens the very foundation of what a democracy is based upon.
Among the members of the newly formed five-member commission, President Lobo named two academics, a former military officer, a former Honduran government official, and an official from the Organization of American States. The experiences of each from their own perspectives should bring a balanced approach to tackling the problems facing them.
Following President Lobo's creation of the commission, Honduran Security Minister Pompeyo Bonilla announced that he had suspended six ranking police commanders, who were not immediately identified.
"We are tired of not having a [security] system in which its members ensure justice and give confidence to the people." said President Lobo.
Honduras has developed as a major step along the route delivering drugs from Peru and other parts of South America to the U.S. Local people and farmers are frustrated as they watch their youth being lured away from traditional values and honest work by fast cash and empty promises.
Currently Honduras occupies the number one position in the world for per capita murder rates, four times higher than Mexico, with 86 murders per 100,000 people. With a national population of only 7 million, that is a significant amount. By comparison, Costa Rica ranks low on the chart with 11 murders per 100,000.
Even in non-military Costa Rica, drug mobs like the Sinaloa Cartel are infesting official and government branches. In March of this year, the head of a drug enforcement unit operating out of Juan Santamaria Airport was arrested under suspicion of accepting money to turn a blind eye to persons transporting drugs through the airport.
Even though there is not definitive reporting as to how many of the 27 police arrested in 2011 were caught up in the drug trade, the number is believed to be significant. And the police are not the only ones culpable. In February 2012, Walter Valverde Fernandez, from the prosecutor's office anti-drug trafficking branch, was given a ten year prison sentence for divulging privileged information to a Mexican drug cartel.
President Laura Chinchilla interviewed early in 2012 claimed her country's government never before has faced such a serious threat.
"This has to do with the institutions, and what [drug cartels] do is corrupt institutions to disrupt the legal system and the rule of law," Chinchilla said. "I don't remember in our whole history a menace like this from organized crime."
The loyalty of some government officials, police and justice department officials has already been successfully purchased by big drug money. President Chinchilla has every right to be concerned about a potentially growing problem.
Sources: BBC, Goerie, New York Times, Panama News