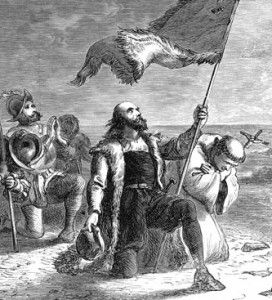 The name of our country says it all: Rich. When Christopher Columbus arrived here during one of his last voyages centuries ago, it is believed that he bestowed our land the name of Costa Rica because he thought he had found a place where riches would spring forth magically. He confirmed his beliefs towards the end of 1502 when he arrived in Panama and was greeted by natives who showed him gold and the stretch of land that divided the world's oceans. Columbus was primarily an explorer and navigator, but during his voyages of discovery he became hip to the fact that his sponsors, the Spanish Crown, were all in it for the money. After being accused of tyranny and atrocious rule in the New World, Columbus was arrested and sent back to Spain for imprisonment. Upon release, it was clear that the voyages had changed Columbus drastically from explorer to businessman, as he was no longer interested in receiving a pension from the Crown; he rather wanted a cut, and he demanded 10 percent of the profits generated by the New World.
The business history of Costa Rica is similar to that in other Latin American countries, with the exception of short-lived dictatorships that were not able to fleece the country as much as other despotic oligarchies, to wit: Batista, Castro, Pinochet, et al. Agriculture has been a major producer of wealth and power for several Tico families, and opportunity-seeking foreigners have a long history of "striking it rich" in Costa Rica. Wealth and political clout, like in many other nations, have gone hand-in-hand.
It is interesting to note that although a Tico film producer helped spark the Occupy Wall Street (OWS) movement, Costa Rica does not present a case of the OWS theory of the 99 percent against the 1 percent. A walk down some of the ritzy neighborhoods in Barrio Amon, Escazu, Jaco, Liberia, and Santa Ana will lead anyone to believe in the existence of the one percent, but statistics show that income distribution is stratified in five segments, with the top 10 percent of households taking in most of the wealth. The fact that foreign income and investments are lawfully tax exempt in Costa Rica make it difficult to estimate net worth. Initiatives such as adoption of Free Trade Agreements (FTA) have managed to attract billions in foreign direct investment (FDI), with a lot of that money flowing overseas.
The following individuals, families and enterprises are just some of the current movers and shakers in Costa Rica stimulating industry and accumulating wealth. Some made money the old-fashioned way (by inheriting it), while some have been quite industrious in their quest for wealth. This is not meant to be an exhaustive list, nor is it meant to categorize moguls or magnates and their mega-millions. These are market leaders with enough acumen and microeconomic potential to influence Tico business.
The Arias Family
Former President and Nobel Peace Prize Laureate Oscar Arias Sanchez comes from a family that made its fortune in coffee and real estate, two time-honored staples of Tico fortunes. The Arias family is a good example of old Tico money. The subject of Oscar Arias' personal wealth attracted the interest of former U.S. Ambassador Mark Langdale, who wrote a lengthy profile of the Nobel Laureate for the Bush administration using pedantic and pretentious rhetoric that was revealed in 2011 thanks to the WikiLeaks affair.
On that leaked diplomatic cable, Langdale seemed envious of Arias' wealth, pointing out his holdings in Grupo Sama, a powerful investment banking firm that has been compared to Morgan Stanley and counts the Catholic church in Costa Rica as a client. In fact, Oscar Arias is a Morgan Stanley client: back in 2006 one of his business entities had more than $570,000 invested with the American firm.  Aside from coffee, the Arias family has made significant profit in sugar plantations and real estate transactions over the years, particularly in San Joaquin de Flores in Heredia. It is believed that the land where the Paseo de las Flores mall and several gated communities sit in Heredia today once belonged to the Arias family.
The Figueres Family
Jose Figueres Ferrer, a key figure of the Costa Rican Civil War and the abolishment of the military, was the elder figure in charge of forming a wealthy and powerful dynasty of politicians, public servants and business leaders. It all started with a coffee farm he named La Lucha (the struggle). La Lucha grew into a paragon of capitalistic socialism where hard-working sharecroppers and their families where welcomed into a co-op where education and health were guaranteed.  Aside from coffee, La Lucha produced rope made from hemp. From those humble beginnings, the elder Figueres got into politics, sparked a Civil War, abolished the army, forged ties with the CIA, granted asylum to fugitive businessman Robert Vesco, became President twice, and catapulted his family into a series of highly profitable business ventures, mostly in agriculture, real estate, and financial investments.
Two of Figueres' children have held notable public service positions: Karen Christiana leads the United Nations Framework Convention on Climate Change and has been involved in private enterprises dedicated to the profitable advancement of sustainability.  Jose Figueres Olsen is a former President who lives in semi-exile and is the current CEO of Concordia 21, a global consultancy non-profit dedicated to philanthropy and the advancement of technology developing nations, among other things.
The Costa Rica Star previously reported on a meeting between members of the Figueres family and the Branson family (of the Virgin business empire).
Edgar Zurcher and John Keith
The financial interests and holdings of these two Costa Rica-based entrepreneurs are impressive: PriceSmart, Payless Shoes, Promerica Bank, the Trilogy Office Center and many commercial spaces in Avenida Escazu. Zurcher and Keith show no signs of slowing down, as Promerica's Board of Executives recently acquired a majority interest in Deportivo Saprissa, the most profitable football team in Costa Rica and perhaps in Central America.
Alvarez & Marin Corporacion, S.A.
The founders and executives of this powerful business holding company are Antonio Alvarez Desanti and Nuria Marin Raventos, a married couple.  Nuria comes from the prestigious Raventos family, known in Spain and Costa Rica for their business acumen and dedication to the arts. Antonio has a lengthy trajectory in public service and politics, particularly under the powerhouse Partido Liberacion Nacional, a party which counts the affiliation of our current President Laura Chinchilla and the Arias and Figueres families above.
The company began in the 1980s as a modest business that dealt in peanuts, cashews and later footwear. These days, Alvarez & Marin is a banana production conglomerate, owns several Wendy's restaurants, holds interest in shopping centers, residential housing complexes, auto shops, ecotourism developments, and real estate operations. The social media-savvy Antonio has not lost his appetite for politics, and is currently rumored to lead the charge for a presidential candidacy, along with San Jose Mayor Johnny Araya.
Dr. Franklin Chang-Diaz
The Hall of Fame astronaut and founder of Ad Astra Rocket Company could see a significant financial windfall from his efforts to advance space exploration for the benefit of humanity. In a previous Week in Review we reported about the availability of financial instruments to invest in Ad Astra. One of Chang-Diaz' visions -besides developing the revolutionary VASIMR engine for manned missions to Mars- is to leverage Ad Astra's technology for the salvage and recovery of space junk. Now that commercial venture SpaceX has been given the thumbs-up to initiate a countdown for a salvage mission to the International Space Station, the likelihood of Ad Astra gaining a lucrative space salvage contract has increased significantly.
The movers and shakers above are sure to contribute to Costa Rica's future standing in the financial world, but The Costa Rica Star knows that the list is inconclusive. We'd like our readers to let us know of new Tico business leaders poised to achieve financial success that we should be covering in the future.