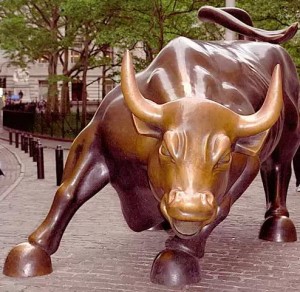 Author's Note: The Costa Rica Star does not hold any interest in the financial instruments mentioned below, nor does it recommend anyone to take a position in any financial market without first consulting a qualified advisor.
The lucrative and ultra-risky world of trading financial instruments based on equity securities and precious metals may seem far removed from a sleepy developing nation like Costa Rica. On the surface, Costa Rica's footprint in the world's major financial exchanges can be described being somewhere between minimal and paltry. Despite this view, thousands of investors pay close attention to financial information coming out of our country in the form of company activity and sophisticated advice.
The Aden Forecast
The opinion and outlook of sisters Mary Anne and Pamela Aden are very respected by the investors who have followed their insight for more than three decades. Based in San Jose, Mary Anne and Pamela edit and publish The Aden Forecast, a financial newsletter that has been lauded on the pages of the Wall Street Journal, MarketWatch and BusinessWeek.
From their Costa Rica offices, the Aden sisters issued a legendary strong long-term buy and accumulate signal for gold in 2002, and six years later had turned more than half of their portfolio into cash. As a result, the Aden sisters and those who followed their advice were able to weather the collapse of Wall Street and the world's financial markets in 2008. Since then, Mary Anne and Pamela's own portfolio has been heavy on the world's favorite precious metal. In a recent MarketWatch article, the sisters remain bullish on gold, calling for it to stay above $1560.
The Aden sisters were born in California to a Tica mother who raised them in San Jose. They learned the financial markets from an expat engineer who, like many other investors have done since, retired to Costa Rica to concentrate on squeezing profits out of his stock portfolio. Over the years, the Aden sisters would come to learn about other securities and commodities, particularly precious metals. Their first report sold for $25 in 1980. A subscription to The Aden Forecast newsletter in 2010 cost $250 a year.
Some of the best wisdom imparted by the Aden sisters comes in small nuggets: "Sentiment drives the markets, not necessarily reality… Our reality has to be accepting the current sentiment."
Major Stocks Tied to Costa Rica
The performance of some of the darling stocks of Wall Street is closely related to the Costa Rica-based operations of those companies. Here's a look at some of these stocks, the extent of their involvement in Costa Rica, and what analysts are saying about them:
Hewlett Packard (NYSE:HPQ)
HP has a strong presence in the national job market, with more than 7,000 Ticos working at the company's massive call center operations spread across various free-trade zones and corporate parks. Only Wal-Mart beats HP in terms of keeping Ticos employed. The tech giant has had its share of issues in recent years, juggling executives and trying to find ways to position itself in the competitive consumer electronics market. The HP Touchpad affair left a bad memory for many investors, which is probably a reason why HPQ gets mostly HOLD recommendations from analysts.
Triquint Semiconductor (NASDAQ:TQNT)
It's hard to think that Triquint shares were going for almost $15 on the NASDAQ around this time last year. The current price is $6.35 and the analysts' sentiment is HOLD. Triquint's presence in Costa Rica consists of a high-tech manufacturing plant at the Metropolitan Free Trade Zone in Barreal de Heredia, where hundreds of Ticos make RF chips and filters for manufacturers like Apple. If you ever feel like taking your iPhone apart, you will find that some parts were Made in Costa Rica. Rumors of the iPhone 5 could help the shares of this Oregon-based tech company take off.
Fiserv (NASDAQ:FISV)
Here's a high-flying stock with a 52-week history of $48.75 to $67.00, an average target price of $70.44, and OVERWEIGHT ratings from various analysts. Fiserv provides payment solutions and technological financial services. In Costa Rica, Fiserv operates a near-shoring center that supports banking operations in English and Spanish-speaking countries.
Intel (NASDAQ:INTC)
The Intel manufacturing plant and campus in Belen is a staple of the community. After more than a decade in Costa Rica, Intel now employs close to 3,000 Ticos in the high-tech world of chipmaking and testing. The Intel employees at the Belen plant are now ready to move past the assembly stage and into R&D. A recent news release by the company indicates that they will be investing $80 million into its operations in Costa Rica, and that new advanced processor technologies may be designed in our country. The analyst ratings for INTC are overwhelmingly OVERWEIGHT.
Ad Astra Rocket Company (BNV:ASTRA)
CEO Franklin Chang-Diaz has big dreams and high hopes for the Houston and Guanacaste-based Ad Astra. Shares of space exploration company trades in the Bolsa Nacional de Valores, and they were announced back in January at price of about $100. The shares can now be purchased as part of a mutual fund operated by INS that includes high-interest sovereign debt bonds. There are no analyst ratings available for ASTRA, but consider the following: Ad Astra's VASIMR propulsion engine is being tested at NASA facilities for possible missions to Mars, and NASA is spending $700 million in the next few years to conduct robotic missions to the Red Planet.