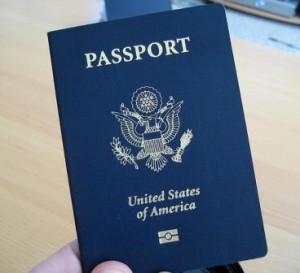 A new bill making its way through the United States legislature may impede travel for American passport holders who owe taxes to the Internal Revenue Service (IRS).
Costa Rica's proposed Fiscal Reform Plan, which was recently sent back to the National Assembly by Sala Cuarta (Constitutional Hall), is just one example of legislative efforts in several nations to increase revenues with the goal of alleviating serious budget deficits.
The United States is another country that is dealing with significant budget shortfalls, and the current administration and Congress are trying their best to come up with legislation that can generate higher revenues to shore up fiscal gaps. This sometimes means reaching out to Americans living abroad and employing methods to monitor their income and assets for the purpose of excising taxes.
In a previous Reader's Mail article, the Costa Rica Star answered a question concerning the Foreign Account Tax Compliance Act (FATCA), a provision of an American law that was passed by the 111th United States Congress in the midst of the Great Recession.  Under FATCA, an American taxpayer who holds $50,000 or more in a bank account in Costa Rica is expected to report those liquid assets to the IRS. Shareholders in a Passive Foreign Investment Company that has assets deposited in Costa Rica are required to report even more information. Individuals could be subject to a 30 percent withholding tax on foreign bank accounts, and up to a 40 percent fine assessed for failing to report or trying to conceal assets.
Enter Senate Bill 1813 (Highway Trust Fund)
Here's the summary of the pertinent portion of the new bill that could restrict travel for some Americans:
Revoke Passports of Individuals Owing More Than $50,000 in Back Taxes.
Currently the Federal government revokes passports and denies new passports to individuals who owe more than $2,500 in child support payments.  Similarly, this provision would authorize the government to deny the application for a new passport or renewal of an existing passport when the individual has $50,000 or more (indexed for inflation) of unpaid federal taxes which the IRS is collecting through enforcement action.  It would also permit the Federal government to revoke a passport upon reentry into the United States for such individuals.  This provision is estimated to raise $743 million over ten years.
Let's say an American living in Costa Rica visits the Embassy in Pavas to request a consular service, such as a notary stamp on a Power of Attorney.  Should the consulate have access to IRS records and see that the individual owes $50,000 or more to the IRS, his or her passport could be confiscated at that point. If that American happens to be a perpetual tourist with no other identification or travel documents, such confiscation could make his or her life very complicated.
Capital Control measures on Americans living abroad (FATCA) will be implemented in 2013. Senate Bill 1813 is currently in the House of Representatives.