Surge in Irregular Migrants Has Tested Costa Rica's Humanitarian Response and Diplomacy
-- Between 2013 to July 2017, 36,081 irregular migrants entered Costa Rica through Paso Canoas on the Panamanian border, according to immigration officials. Towards the end of 2015 and into 2016, Costa Rica faced a surge in irregular migrants for which it was not prepared, said the government press office today, and that forced institutions and communities to respond to the emergency. First th...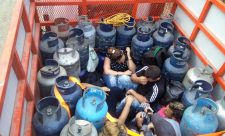 Cubans and Other Migrants Continue Exodus Through Costa Rica
By Wendy Anders Police in southern Costa Rica Sunday discovered six undocumented Cubans traveling huddled in between gas cylinders in the back of a flat-bed delivery truck. Migrants from Cuba, Haiti, and other countries continue to risk over-land travel to reach the U.S., said the Costa Rican government earlier this month. From April 2016 until January 2017, the government said 18,000 mig...
Costa Rica Resumes Deportations of Undocumented Haitians
By Wendy Anders African migrants in Costa Rica; OAS The Government of Costa Rica yesterday resumed deportations of Haitian citizens who are in the country without legal documents, reported the Spanish news service EFE. The deportations had been suspended a month and a half ago due to the emergency situation in Haiti in the aftermath of Hurricane Mathew, said government officials. A gr...
Hurricane Matthew Slams Cuba, Heads North to Florida
Havana, Oct. 4 — Hurricane Matthew, the most powerful storm to strike the Caribbean in nine years, made landfall Tuesday in southeastern Cuba packing sustained winds of up to 240 kph (149 mph), the island's Insmet weather service said. Hurricane Matthew beating Jamaica, from Facebook. Authorities ordered nearly 900,000 residents of the provinces of Camagüey, Granma, Las Tunas, Santiago, H...
Growing Immigrant-Related Tensions at CR Northern Border
By Wendy Andershttps://www.youtube.com/watch?v=Cn91WdKhUmE Eyewitness accounts in and around Peñas Blancas on Costa Rica's northern border with Nicaragua show growing desperation and also health concerns among hundreds of Haitian and African immigrants trying to journey to the U.S. Costa Rica's national TV Repretel documented a thwarted attempt last Wednesday by a boisterous group of immigra...
Former President Aristide Makes Rare Public Appearance in Haiti
Wikimedia Commons Port-au-Prince, Oct 23 (EFE).- Crowds of Haitian voters accompanied ex-President Jean-Bertrand Aristide as he set off with the presidential candidate of his Lavalas Family party, Marysse Narcisse, in a caravan to close her campaign. The caravan left from the ex-president's residence amid a crowd numbering over 1,000 partisans. Supporters of Aristide and Narcisse waited ...