Costa Rica Will Open Business Promotion Office in Dubai
The government of Costa Rica and the Dubai Chamber of Commerce and Industry signed a memorandum of understanding to open a Costa Rican Promotion Office in Dubai, the largest and most populous city in the United Arab Emirates (UAE). The agreement was signed by Majid Safir Al Ghurair chairman of Dubai Chamber and Manuel Gonzalez Sanz, Costa Rica's Minister of Foreign Affairs during the Global Bu...
VIDEO: World's Longest Zip Line in the UAE Made by Costa Ricans
The world's longest zip line opened at the end of January on Jebel Jais, the United Arab Emirates (UAE) highest mountain, in the adventure emirate of Ras Al Khaimah, this incredible project was designed and built by Costa Ricans. "At over 2.8 kilometers long it is the equivalent to over 28 soccer fields in length and it's suspended 1,680 meters above sea level. Riders enjoy incredible views of ...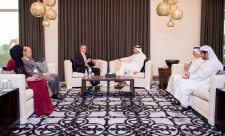 The United Arab Emirates Will Open Embassy In Costa Rica
The government of the United Arab Emirates announced their decision to open an embassy in Costa Rica. The announcement was made by Abdullah bin Zayed Al-Nahyan, Minister of Foreign Affairs and International Cooperation to Costa Rican chancellor, Manuel Gonzalez Sanz, in an act of reciprocity since the Embassy of the Republic of Costa Rica was officially opened in Abu Dhabi on Thursday. Curre...
Will United Arab Emirates Come to the Rescue on Costa Rica's Pending Port Project?
Costa Rican Vice Minister of Foreign Trade, Jhon Fonseca, concluded a third round of negotiations on a recent trip to the United Arab Emirates (UAE) centered on attracting investments for the country's planned "megaport" on the Caribbean coast of Costa Rica. At the site of the Moín, Limón port, an expanded facility with improved capacity and logistics aims to be able to receive over two and a h...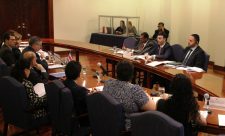 Abu Dhabi Fund for Development in Costa Rica to Talk Investment
A week-long visit to Costa Rica by the Abu Dhabi Fund for Development (ADFD) is focussing on investment possibilities, said the Ministry of Foreign Relations in s statement this week. Fund officials from the United Arab Emirates will analyze possibilities and issue a report on Costa Rica's viability as a recipient of investments in areas such as infrastructure and services that have an impact o...
Costa Rica Woos Middle East Direct Investment With Visits to Jordan and Israel
Costa Rica's Foreign Minister continued on from his meetings in Qatar last week to other regions of the Middle East to continue to court economic interests in Costa Rica's markets. Costa Rican Foreign Minister Manuel González held a private meeting last week as part of his participation at the World Economic Forum in Jordan with His Majesty King Abdallah II of Jordan and Jordanian For...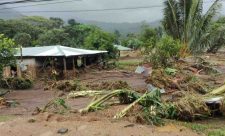 United Arab Emirates Donates $10M to Costa Rica for Reconstruction
By Wendy Anders The United Arab Emirates (UAE) will donate $10 million (more than ₡5.5 billion colones) for the repair and restoration of aqueducts in communities destroyed by the passage of Hurricane Otto, said the Costa Rican government. This was one of the main tangible outcomes of a recent official Costa Rican delegation, the country's first, to the Middle East. In addition to this vi...
Costa Rica Strengthens Commercial and Diplomatic Ties in Middle East
Costa Rican president, Luis Guillermo Solís, during his visit this month to Abu Dhabi, Dubai and Sharjah announced his country will establish an embassy and commercial office in the United Arab Emirates (UAE). In an interview with EFE during his first tour of an Arab state, he said that the opening of both initiatives has already been approved with the goal of "broadening and consolidating bila...