Costa Rican Nonprofit Spearheads Open-Sea Conservation Treaty
By Wendy Anders Representatives from nine South American countries met this month to discuss the conservation of marine biodiversity in the open ocean, said the Costa Rican non-profit marine conservation group MarViva Foundation. Almost half the planet is covered by the high, or open seas, the waters found beyond countries' territorial limits. Despite their abundance, these vast areas hav...
Oil Companies and Unions in Argentina Reach Fracking Agreement
Buenos Aires, Jan. 10 — President Mauricio Macri said Tuesday that oil companies and unions reached an agreement to produce natural gas at Vaca Muerta, one of the world's largest shale oil and gas fields, in a deal that will generate $5 billion in investment in Argentina this year alone. "The companies are committed to a virtuous investment process that will be $5 billion" in 2017 and double in s...
Argentine Gov't Pushes for Open Airline Market, Sparks Protests
Buenos Aires, Dec. 27 — Argentina's air transport unions, from flight attendants and pilots to cargo personnel, gathered Tuesday in this capital to protest against the government, which has organized hearings to study the entry of new airlines into the market, including budget carriers. Carrying flags and signs and beating drums, about 1,000 people from various unions demonstrated starting earl...
Chronic Loneliness Kills, Argentine Neuroscientist Warns
Miami, Sept. 15 - Chronic loneliness is more dangerous than alcoholism or obesity and can even kill, says Argentine neuroscientist Facundo Manes, author of "Usar el cerebro" (Using the Brain), a book discussing getting to know one's mind to be able to live better. "Feeling alone is a biological mechanism like being hungry or thirsty, but the difference is that a person can eat or drink and thei...
Costa Rica Skis to South Korea: Andre Eyes the World Cup
Part II in a series on 2018 Winter Olympic hopeful, Andre Moreno Hamm. By Wendy Anders It's not the way most colllege students start their year in the U.S., but bi-national Andre Moreno Hamm, Costa Rica's Winter Olympic hopeful slopestyle skier, isn't your usual student. And right now, his studies at Westminster College in Salt Lake City, Utah are on hold while he's in South America for a sk...
Indigenous Archeological Record of Argentina is Being Destroyed
Monument at Punta Querandí, Wikimedia Commons Buenos Aires, May 22 (EFE).- A small patch of land is the epicenter of a conflict to defend the rights of Argentina's original inhabitants against construction firms. Punta Querandi, a little "peninsula" in a river in the Buenos Aires provincial town of Dique Lujan, was isolated by the collapse of its only bridge and by the private neighborhoods...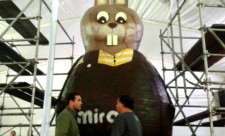 Giant, 3-Ton Chocolate Easter Bunny Spotted in Argentina
Turismo Miramar Buenos Aires, Mar 27 (EFE). - Residents of Miramar, a coastal city in Argentina's Buenos Aires province, have built the world's tallest chocolate Easter Bunny, a creation that stands 5.2 meters (just over 17 feet) tall and weighs 3,000 kilos (3.3 tons), city officials told EFE on Sunday. "In the past six years, around this time, we have made giant Easter eggs, but since othe...
In Argentina, Obama honors victims of US-backed 'Dirty War'
U.S. President Barack Obama and Argentina's President Mauricio Macri visit the Parque de la Memoria (Remembrance Park) where they will honor victims of Argentina's Dirty War on the 40th anniversary of the 1976 coup. (REUTERS OMX) (VOA) U.S. President Barack Obama said the United States was slow to speak out on the atrocities committed during Argentina's former dictatorship but says his adminis...
23 Dolphins Found Dead in Argentina
Wikimedia Commons Buenos Aires, Mar 2 (EFE).- A total of 23 Franciscana dolphins have been found dead in recent days on different beaches in Argentina, prompting an investigation. That figure was confirmed to EFE Wednesday by the Mundo Marino foundation, which received reports of the dolphin deaths and has arranged for studies to determine why the animals lost their lives. "They've appea...
13-Year Old Mom in Argentina is Pregnant Again
Buenos Aires, Nov 12 (EFE).- The pregnancy of a 13-year-old girl who has already given birth once before is rocking Argentine society, given that - in addition - authorities are investigating whether her situation was brought about by being raped by her mother's partner, local media reported. The girl, whose name has not been made public, had been living with her 32-year-old mother, her stepfat...
From Costa Rica to Argentina: The Unlikely Trail of Chapo Guzman
Joaquin "Chapo" Guzman. Source: Wikimedia Commons Buenos Aires, Nov 9 (EFE; additional reporting by The Costa Rica Star).- Mexican drug lord Joaquin "El Chapo" (Shorty) Guzman is not in Argentina, the Argentine government said Monday, citing the results of an investigation. Officials ruled out the possibility that the Sinaloa drug cartel's leader was in the Argentina-Chile border region. ...