Edelweiss Confirms Third Weekly Flight Connecting Switzerland and Costa Rica
Swiss airline Edelweiss will begin operating a third flight from Zurich to San Jose, the announcement was made by the Costa Rica Minister of Tourism, Mauricio Ventura, from the ITB Travel Trade Show in Berlin where the country is participating. "Less than a year ago we announced the beginning of operations in the country of this prestigious airline, member of Lufthansa Group, today we feel ver...
Transnational Roche Selects Escazú Village to House Costa Rican IT Service Center
Roche, a branch of Hoffman-La Roche, selected Escazú Village as the new headquarters of its Costa Rican Global Shared Information Technology Services Center. The center will serve the company's operations in Canada and the United States, said a report in Costa Rica's Summa business magazine. F. Hoffmann-La Roche AG is a Swiss multinational healthcare company that operates worldwide under two di...
Direct Air Travel Between Costa Rica and Switzerland Starts May 9
The Zurich-based Swiss airline, Edelweiss Air, which operates flights to many European cities, North America, Asia, North Africa and the Caribbean, will start offering direct travel to and from Costa Rica May 9, said Enio Cubillo, director general of Costa Rica's Civil Aviation Department. The plans were announced last year by the President of the Republic, Luis Guillermo Solis, and the Ministe...
Costa Rica is participating for the first time in Switzerland's main touristic fair
Costa Rica was selected as a guest country by the organizers of the International Fair FESPO, the most important touristic fair in Switzerland. This is the first time that Costa Rica participates in this international event that is taking place January 26th -29th in Zürich, Switzerland. "The participation in this fair will allow us to position the country in the European market, which repres...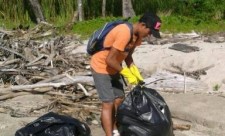 Multinationals Act on Ocean-Clogging Plastics
January 16, 2017: Forty of the world's biggest companies agreed Monday find sustainable ways to make and consume plastic as the waste threatens the globe's eco-systems, especially oceans, said international media reporting on the World Economic Forum in Davos, Switzerland. The planet's dangerously polluted oceans will contain more plastic waste than fish by 2050 if urgent action isn't taken, th...
Roche Has Renewed Interest in Using Costa Rica for Drug Trials
By Wendy Anders Gardasil, the controversial human papilloma virus vaccine that was tested in Costa Rica. F. Hoffmann-La Roche AG's Central America and Caribbean subsidiary (Roche CAC) reported US$116 million in exports from January to October 2015, reported El Financiero (EF), Costa Rica's business daily. As part of this growth, the company invested US$5.5 million last year in its distri...
Costa Rica Participates in 2nd UN Arms Trade Treaty Conference
By Wendy Anders This morning in Geneva, Switzerland, Costa Rica's Security Minister Gustavo Mata reiterated Costa Rica's wholesale commitment to the effective implementation of the United Nations Arms Trade Treaty. The Arms Trade Treaty (ATT) is a multilateral treaty regulating international trade in conventional weapons, according to the United Nations website that entered into force in Dec...