KLM-Costa Rica Biofuel Alliance First of Its Kind for Eco-Conscious Dutch Airline
The Costa Rican government and KLM Royal Dutch Airlines are joining to combat carbon dioxide emissions, said the KLM press office. KLM is the only European airline operating intercontinental flights using biofuel. Over the coming months, the business will collaborate with the Costa Rican government in a first ever such alliance for the company to research the possibilities of flying betw...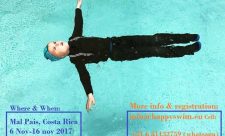 Expat Instructors Offer Survival Swim Class for Tots in Mal Pais, Costa Rica
From November 7-15 in the Mal Pais - Santa Teresa area on the southern Nicoya Peninsula, instructors from The Netherlands will offer a survival swim class for children aged two to 12. Private and semi-private lessons are available in 1, 3 or 7-lesson packages. The class instructors describe the activity as follows: "Baby survival is a special technique for very young children (under 2 year ...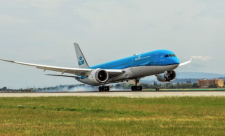 Fly Costa Rica-Amsterdam Direct on KLM's Dreamliner Jet
KLM launches its new direct service between San José, Costa Rica and Amsterdam, Holland on Halloween on its Boeing 787-9 Dreamliner, an eco-friendly craft. The service will operate Tuesdays and Fridays as of October 31, and then additionally on Sundays starting at the end of January 2018, announced the airline. The new craft consumes 20 percent ​​less fuel that the airline's other jets, gene...
Colombian Ship Bound for Holland Detained in Costa Rica With 50K of Cocaine
So far this year, Costa Rica's police forces have captured over 17.5 tons of cocaine, both in land and sea operations, informed the Public Security Ministry in the wake of an incident at the Moín, Limón port on Costa Rica's Caribbean coast. On Thursday August 17, drug control police detained and inspected a ship where they discovered 50 kilos of cocaine attached to its hull, said the ministry. ...
KLM to Add Third Weekly Costa Rica-Amsterdam Connection in 2018
In April this year, KLM Royal Dutch Airline announced they would start two weekly direct flights between Amsterdam and Costa Rica to accommodate growing European winter tourism to the tropical vacation haven starting October 31, 2017. This week the airline said they would be increasing that service to Costa Rica in the first quarter of 2018 with an additional flight. The third weekly flight ...
Costa Rica Tightens Measures Against Foreigners With Criminal Records
Costa Rican authorities announced they would reinforce security, including streamlining procedures to expel foreigners linked to criminal activities, following a series of recent crimes that have shocked the country. "Acts of violence in recent days have raised a justified alarm in the population and motivated new calls for attention to all authorities to intensify the fight against drug traffi...
The Netherlands, France, Panama and Korea Have the Most Ecological Embassies in Costa Rica
The Costa Rican Institute of Aqueducts and Sewers (AyA) has moved on from awarding the country's cleanest beaches to granting their eco-diplomatic awards this week. The AyA awarded four embassies in Costa Rica, and three Costa Rican embassies abroad for their notable efforts in energy and water saving such as reducing paper use, recycling and solid waste management, and minimizing fossil fuel c...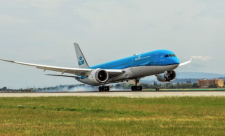 KLM Announces Direct Costa Rica-Amsterdam Flight
The Royal Dutch Airlines, KLM, annoucend today they will start flying directly to Costa Rica later this year. Two weekly direct flights connecting Amsterdam and San José, Costa Rica will be served by a Boeing 787-9 Dreamliner, the most modern aircraft in the KLM fleet, said the airline. The flights will operate from October 31, 2017 until March, for the duration of Europe's winter season. ...
Costa Rica's Exports Rose to US$9.5 Billion in 2016
— Costa Rica's exports grew 1.4 percent in 2016. The Statistics and Census Institute (INEC) reported this week on Costa Rica's economic activity. Data from 2016 show an annual growth in exports of about 1.4 percent over 2015; rising from US$9.4 to US$9.5 billion. The country's "non-traditional" exports, like medical devices and technology-related exports, are second only to fresh pineapple ...
Honeywell Solar Distributor Enter's El Salvador Energy Market
Executives from Honeywell's global distributor for solar technology, Global Solar Trading BV (GST), visited El Salvador recently to meet with Solanda, a local company providing renewable energy technology. The two companies clinched a deal to distribute and expand solar technology in Central America. "El Salvador's energy potential is high, as there are an average of six hours of intensive s...
Aerial Study Will Allow Pacific Garbage Clean Up to Start by 2020
By Wendy Anders Technology to clean the ocean of trash being developed by The Ocean Cleanup. The Ocean Cleanup concluded its first-ever reconnaissance flight over 'Great Pacific Garbage Patch' this week, the group reported on their website. Founded in 2013 by Boyan Slat when he was 17, The Ocean Cleanup is a Dutch Foundation developing advanced technologies to rid the world's oceans of p...