Iranian Leadership Should Takes Some Tips From North Korea or it Could be "Death To Iran"
Iranian fanatics were on full display after President Donald Trump announced Tuesday the United States of America was going rogue pulling out of the 2015 Iran Nuclear Deal spearheaded by former President Obama and former Secretary of State John Kerry. Right there on the floor of the Iranian Parliament government leaders were jumping up and down screaming "Death to America" while burning an Amer...
US Reviews Nuclear Pact in Wake of Iran Missile Tests
Vice President Mike Pence said Sunday that the Donald Trump administration is "evaluating" whether or not it will continue to maintain the nuclear agreement with Iran and five great powers, a pact the new president harshly criticized during his election campaign. "Well, we're evaluating that as we speak," Pence told ABC News in a Sunday interview in response to a question about whether the Trump ...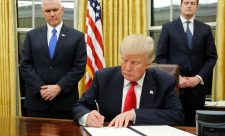 Trump gives Pentagon 30 days to present strategy for defeating Islamic State
The president of the United States on Saturday signed an executive order giving the Defense Department 30 days to present a strategy for defeating the Islamic State terrorist group. Donald Trump also signed another order to reorganize the White House National Security Council, a forum the US president uses to address issues of national security and foreign policy with advisers and cabinet members...
First Nicaragua, Now Cuba: Iran Warms Up to Latin America
Nicaraguan President Daniel Ortega (C) listens during an official meeting with Iran's Supreme Leader Ayatollah Ali Khamenei (R) and then-President Mahmoud Ahmadinejad (L) during an official state visit by the Nicaraguan president to Iran in 2007. Iranian Foreign Minister Mohammad Javad Zarif began his first Latin American visit Monday in Havana, where he met with Foreign Minister Bruno Rodrigu...
U.S. Citizens Freed from Prison in Iran as Sanctions are Lifted
File photo Washington, Jan 16 (EFE).- U.S. President Barack Obama signed Saturday an executive order to lift economic sanctions on Iran, the White House said. Obama signed the order after the International Atomic Energy Agency, or IAEA, confirmed that Iran has met all the commitments it made last July in Vienna to reach a historic nuclear accord and have international sanctions on that coun...
Exclusive: Iran shipping signals conceal Syria ship movements
By Jessica Donati and Daniel Fineren LONDON/DUBAI | Thu Dec 6, 2012 7:53am EST LONDON/DUBAI (Reuters) - Iranian oil tankers are sending incorrect satellite signals that confuse global tracking systems and appear to conceal voyages made by other ships to Syria, which, like Iran, is subject to international sanctions. The two countries are close al...