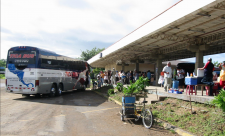 Getting Your Residency Vs Border Runs in Costa Rica
To run or not to run that is the question: Border Running is the practice of traveling to either the Panama or Nicaragua border for the sole purpose of obtaining a new 90 visa stamp on one's passport as an economical alternative to returning to one's home country for the same reason. In and out and back to Costa Rica within 60 – 90 minutes. (Those who specifically go to shop for cheap goods, mu...
Costa Rica's Poas Volcano Offers Light Show of Eruptions Tuesday Evening
Another eruption was registered this Tuesday evening at 7:08 p.m. local time by Poás, Volcano in Costa Rica, the activity only lasted 5 minutes but during this time the volcano provided a light show spitting out incandescent rocks as you can see in the following video: The volcano continues to register frequent activity and it is cataloged as "highly unstable" by geologists and volcanologis...
Red Cross Finds Canadian Tourists Gone Missing Near Dota, Costa Rica
Monday, the Costa Rican Red Cross sent out a rescue team to locate six members of an 11-member hiking group who apparently became lost during a trek in the southern central mountains of Costa Rica. The group, made up of Mexicans, Canadians, French, as well as a German and a Costa Rica traveler, set out Sunday at 5:00 a.m. on a hike in an area called "Las Torres de Savegre" near San Gerardo de D...
Experts Investigate 2010 Google Maps Invasion of Costa Rica
Wikimedia Commons The President of the International Court of Justice (ICJ), the principal judicial organ of the United Nations, has appointed independent experts in the case concerning Maritime Delimitation in the Caribbean Sea and the Pacific Ocean (Costa Rica v. Nicaragua), whose task is to determine the state of the coast between the point suggested by Costa Rica and the point suggested by...
The Challenges of Delivering Mail in Costa Rica
Main Post Office in Costa Rica In recent years, Costa Rica has been working on implementing a system of street signs, numbered buildings and even postal codes to combat what some people perceive as an antiquated system of cardinal directions and descriptions based on old (and sometimes dubious) landmarks. Thanks to navigation and mapping technology such as GPS, Waze and Google Maps, mail carri...
Please Help Find Missing U.S. Hiker Cody Dial in Costa Rica
Cody Dial The information herein mostly comes from the GoFundMe online fundraiser set up by the parents of Cody Roman Dial, a college student from the United States who arrived in Costa Rica with adventure in his mind. Cody intended to hike across Corcovado National Park in our Southern Pacific region; he has been missing since July of 2014. For the purpose of style and flow of prose, The Costa...
US Donates Watercraft to Protect Costa Rica's Borders
Source: MSP Earlier this month, the Ministry of Public Security (Spanish initials: MSP) held a special ceremony in Isla Calero that served two purposes: The commemoration of fallen Fuerza Publica officers who died in the line of duty, plus the announcement of a significant donation made by the United States government to augment border security. Through a security cooperation agreement, the...