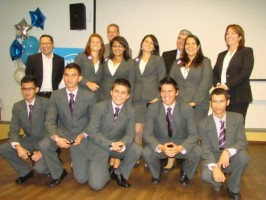 On Sunday, May 13th, eleven of Costa Rica's most brilliant young minds will travel to Pittsburgh, where they will represent our country at the 2012 Intel International Science and Engineering Fair (ISEF) with six high-tech projects. From May 14th to the 18th, the young Ticos will compete against 1,500 students from 68 countries at the David L. Lawrence Convention Center.
At a ceremony at Intel's campus in La Ribera de Belen, Minister of Science and Technology (MICIT) Alejandro Cruz was on hand to thank the students for their hard work and participation:
"[…] you represent a group of many students who have participated in many fairs in the past. What we see today is the harvesting of an effort, and you have a great support team. We are sure this event will change your lives, and we are very proud of you."
The young Tico scientists were also congratulated by Mike Forrest, General Manager of Intel in Costa Rica, and by MICIT Academic Vice Minister Dyalah Calderon. The MICIT is sponsoring the students and providing $10,000 for their travel and lodging expenses, as well as for the three adults who will accompany them.
Costa Rica has been participating in ISEF since 1998. While our students have brought back second, third, and fourth place awards, Costa Rica is still hoping to score the grand prize at ISEF. The projects this year are very interesting, and they stand a good chance to bring home glory. There is also a strong presence by young Ticas this year, who are becoming more involved in science and technology:
SOS – A System for Ambulances
This is a software platform that allows emergency medical personnel to send patient data to physicians waiting at a health care facility via a feature phone (not a smartphone). The data would include real-time vital signs.
This project is the work of Melina Jimenez Porras, Angie Marin Acuna and Maylin Valverde Torres from Colegio Tecnico Profesional Don Bosco.
Biological Protection Against Perenospora on Cucurbitae (squash)
Perenospora is a deadly mildew fungus that can decimate pumpkin and squash crops. This project aims to combat the pesky fungi with microorganisms in a sustainable manner.
This project is the work of Alexandra Obando Garita from Colegio Tecnico Profesional de Pacayas.
Discarded Plastic as Part of an Anaerobic Digestion System
The lids of plastic containers, among other non-biodegradable objects, can be used as filters in compost and anaerobic digestion systems.
This project is the work of Irene Barrantes Ortiz y Natalia Barrantes Ortiz from Colegio Cientifico Costarricense, San Pedro.
Braille Keyboard, Printer and Recyclable Sheets
A run-of-the-mill desktop printer is transformed it into a Braille printing device that boasts a keyboard and stores data. The sheets used can be recycled after printing.
This project is the work of Jose Miguel Gonzalez Arias from Colegio Tecnico Profesional Don Bosco.
Medicinal Plants Classification Table
Medicinal herbs and plants are being discovered and researched almost everyday. This project seeks to classify such plants and their properties into standard web format similar to the Periodic Table.
This project is the work of Giancarlo Marín Hernandez, Andrey Jimenez Garro y Pablo Marin Arrieta from Colegio Tecnico Profesional Don Bosco.
RIIS-ED Smart Robot for the Disabled
This is a prototype robotic device that allows the disabled and paralyzed to manipulate objects remotely. Facial movements are translated into brainwave-like commands and transmitted via wireless sensors arranged in a diadem-like device to the RIIS-ED robot.
This project is the work of Luis Gerardo Leon Vega from Colegio José María Gutiérrez de Guanacaste. This is his second ISEF.