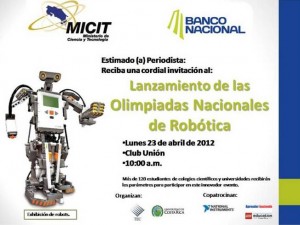 Banco Nacional and the Ministry of Science and Technology (MICIT) will hold a press conference to mark the official announcement of the National Robotic Olympics on Monday, April 23rd at the stately and upscale Club La Union in the heart of Downtown San Jose.
The Robotic Olympics this year will be coordinated by National Instruments, University of Costa Rica, the Technological Institute of Costa Rica (TEC), and Aprender Haciendo -the educational arm of LEGO in our country. More than 120 students from different learning institutions will receive the guidelines and robotic design parameters for this year's competition.
During last year's robotic tournament, high school and university students gathered at the TEC campus in Cartago to assemble a robot that could recognize and collect recyclable materials. The objective for the young robotic engineers was to develop a software program to instruct the robot to properly identify eight different objects that represent recyclable materials. Once identified, the robot would collect the materials.
Students programmed and assembled their robotic solutions over two days, and in the end three young winners from Perez Zeledon were chosen to represent Costa Rica at the 2011 World Robot Olympiad (WRO) in the United Arab Emirates. The 2012 WRO will take place in Kuala Lumpur, Malaysia.
The theme at this year's WRO will focus on robots that can fit in with human society. "Robots Connecting People" is the name of the open category at the WRO, and one of the projects suggested includes robots that can play and work alongside people.