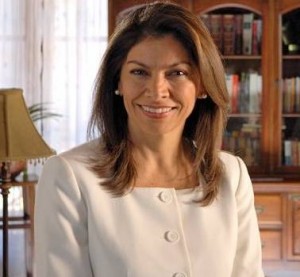 After a busy Sunday which culminated with a visit to the National Assembly, President Laura Chinchilla was ready to go home and prepare for the week ahead. Traveling on route 27, which connects San Jose with Puerto Caldera in the Pacific Coast, she noticed a road traffic accident near La Sabana. Her security escort tried to push through the accident and take our President home, but she ordered them to stop and got off the car.
Four people were lying injured on the road. They had been passengers in a car driven by motorist who was allegedly inebriated. The vehicle struck against a roadside concrete barricade, causing injuries to the riders. The driver abandoned his passengers and sped off.
Our President took control of the situation and immediately ordered her bodyguards to pursue the driver of the Hyundai Accent, who was intercepted 800 meters away. She then called the Red Cross and Transit Police, and while the responders arrived, looked after the safety of the injured. Two passengers were taken to the hospital while the driver was tested for intoxication. The results were positive.
A camera crew from national television broadcaster Repretel arrived on the scene and our President did not miss a chance to voice her displeasure with Sala Cuarta (Constitutional Hall) over the court's actions on the matter of the Transit Law. Over the course of several months, Sala Cuarta has been finding a number of irregularities, discrepancies, disproportional fines, and legal conflicts in the Transit Law. As a result, a number of traffic infraction resolutions and measures are now in limbo. President Laura Chinchilla thinks that Costa Rica needs stronger traffic enforcement and control, and she cited last night's accident as an example.
Later that night, our President addressed her social media followers on Twitter. She explained what happened, and also answered questions directly:
It was my duty to render assistance. It was a chaotic situation: three people lying injured on the road and a vehicle on the loose. Cause: drinking and reckless driving.

It was not a hit-and-run. They were all traveling in the same vehicle.

What we need now, with urgency, is to call on legislators to approve a new Transit Law with strict fines.
According to La Nacion, the injured were taken to the San Juan de Dios Hospital.