Halloween Earthquake Scares Guanacaste, Costa Rica
Source: OVSICORI Trick-or-treaters and costumed revelers in the Gold Coast beaches of Costa Rica were shaken up by a 4.2 MW earthquake, which was felt in the communities of Santa Cruz, Nicoya, Cerro Negro, Diria, Nambi, Playa Samara, Playa Grande, Hojancha, and Playas del Coco. The epicenter was located inland, about 9 km south of Diria, between Liberia and the Nicoya peninsula, at a depth of ...
Costa Rica on Green Alert for Volcanic Eruption
A dairy cow is evacuated as the Turrialba rains down ash. Photo: RSN About 20 minutes before midnight on October 29th, the Turrialba Volcano in the province of Cartago woke up from its slumber without warning and delivered the strongest eruption in the last 150 years. The quiet agricultural town of Turrialba was shaken by a few seismic movements, which were followed by massive ash clouds that ...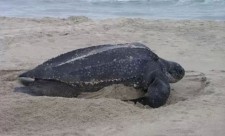 Las Baulas Marine Park in Costa Rica Will Shut Down at Night
One of the most pristine coastal areas of Costa Rica will be partially shut down after dark from now until March 15, 2015. The Las Baulas (Leatherback Turtles) Marine Park in the Osa Peninsula will close down beach access to Playa Grande, Playa Ventanas, Playa Langosta, and Playa Carbon from 6:00 pm to 5:00 am to allow for the massive arrivals of Dermochelys coriacea during nesting season. The ...
Biologists Wish to Halt the Nicaragua Canal
President of Nicaragua Daniel Ortega Members of the Association for Tropical Biology and Conservation (ATBC) have issued a resolution that calls for the immediate cessation of all activity related to the construction of the controversial Nicaragua Canal, a quixotic project to build an interoceanic waterway to rival the Panama Canal. The ATBC resolution is based on what the organization estimat...
The Smart Apes of Costa Rica on Animal Planet
Source: Wikimedia Commons Earlier this week, the Animal Planet cable television network premiered a new, two-hour documentary focusing on primate intelligence, particularly among the simian species. This engrossing TV program, which travels to Borneo, Thailand and Costa Rica, shows us how apes are smarter than we think, and that humans still have a lot to learn from our fellow species. Let's p...
Operation Pacuare: Sea Shepherd in Costa Rica
Source: Sea Shepherd Readers of The Costa Rica Star are very familiar with our extensive reporting on the saga of Paul Watson, the controversial founder of the Sea Shepherd Conservation Society. In late September, we reported on the Sea Shepherd chapter in Costa Rica, which is actively involved in the protection of sea turtles in our Caribbean coast. We now bring you an update by Sea Shephe...
New Stem Cell Research Subsidiary in Costa Rica
A stem cell research company firm is opening an office in Costa Rica, according to a press release issued by the Global Stem Cells Group, Inc. In Costa Rica, clinical trials and stem cell research on humans was a gray area of the law for about four years. One of the last Executive Decrees signed by former President Laura Chinchilla gave more freedom to stem cell research in Costa Rica, which ha...
4.1 MW Earthquake in Playas del Coco, Costa Rica
Playas del Coco in Guanacaste The Gold Coast beaches of Guanacaste were jolted by an earthquake as residents and tourists were preparing to enjoy the weekend. According to a report by the Observatory of Seismology and Volcanology of Costa Rica (Spanish acronym: OVSICORI), the seismic movement was detected at a few minutes past 1:00 pm, with an epicenter 14 kilometers north of Playas del Coco a...
Monteverde, an Ecological Sanctuary in Costa Rica
Self-guided tours in the Monteverde Cloud Forest Reserve of Costa Rica are just one of the many activities that allow you to get really, really close to Nature. In this video by travel journalist Elizabeth Donatelli, she spots butterflies and a friendly white-nosed coati (or pizote) that comes right up to her. Afterwards, she boards Sky-Trek to get the true feeling of just how humid this amazing p...
Tuna Fishing Restrictions in Effect in Costa Rica
Longline tuna haul. Source: Greenpeace. By means of an Executive Decree signed on Tuesday by President of Costa Rica Luis Guillermo Solis, parts of the Pacific Ocean are now off limits to commercial tuna fishing. The two main oceanic locations where tuna fishing is absolutely prohibited are the Isla del Coco (Cocos Island) National Park and the Seamount Conservation Area. The National Coast Gu...