SeaWorld Funds Sea Turtle Conservation in Costa Rica
Ever since the incisive and controversial documentary Blackfish premiered at the Sundance Film Festival in 2013, marine mammal park operator SeaWorld has been engaged in a careful public relations campaign that goes beyond the company's longstanding tradition of rescuing, rehabilitating and releasing wildlife. SeaWorld is not about to give up its business model of keeping marine mammals such as ki...
Volcanic and Seismic Activity Continues in Costa Rica
Although residents of Costa Rica are mostly used to feeling an earthquake or two each week and experiencing periods of increased volcanic activity, concern over catastrophic natural disasters is currently at higher than usual levels. Not long after celebrations of Columbus Day commemorated the discovery of the New World and its wonderful natives, people in Costa Rica were jolted by phreatic erupti...
Volcano Tourists in Costa Rica Enjoy Phreatic Eruption
The Poas Volcano in the province of Alajuela is currently one of the most active in Costa Rica, and on Monday morning it treated tourists to an awesome display of Nature's sheer and beautiful power. A video recorded by geologists at the Observatory of Seismicity and Volcanology of the National University shows a massive phreatic (ground water) eruption that sent Earth matter flying up in at a heig...
The Dangers of Volcano Tourism in Costa Rica and Around the World
Source: Wikimedia Commons Following the September 27th eruption of Mount Ontake, a volcano in Japan that was considered to be mostly dormant since 1979, the Ministry of Foreign Affairs in Costa Rica issued an official communiqué extending condolences and solidarity to the honorable people of this Asian island nation at a time when the death count has climbed to 54. Hiking to the p...
Ecologically Friendly Construction Techniques in Costa Rica
Due to the mild and welcoming weather that can be enjoyed throughout most of the country, Costa Rica is an ideal location for eco-friendly construction techniques. This is a country that has pioneered many sustainable practices over the years, particularly with regard to residential construction materials and techniques. To this end, "eco bloques" (eco-bricks) have been attracting plenty of at...
Jurassic World: Another Major Movie About Costa Rica Filmed Elsewhere
The fictional universe created by the late author Michael Crichton around Jurassic Park has developed into a very popular, highly successful and extremely lucrative industry. Films, novels, video games, comic books, and merchandising have been generating millions of dollars for the Jurassic Park universe, which Mr. Crichton specifically placed in Isla Nublar, which is based in a mixture ...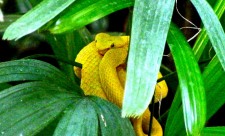 Learn About the Venomous Snakes of Costa Rica
This is a guest article by Quepolandia.com written by Manuel Cabalceta Mendéz, professional rainforest guide with translation services by Brian Schoenholtz. Among reptiles, snakes are the most adaptive group and there are an estimated 2,900 species in the world. In Costa Rica, there are 139 species of snakes, representing 60% of the reptiles of the country. 22 species are venomous and the r...
Alligator Warning Signs to be Posted in Costa Rica
Source: Wikimedia Commons Warning signs along the Tarcoles River near the Central Pacific coast of Costa Rica will soon advice residents and tourists about the presence of potentially dangerous caimans. The warning signs specifically prohibit feeding the reptiles, which many people see as an act of good faith, but is in fact a danger to humans. In a recent interview with Radio Col...
Foot Patrols by Sea Shepherd in Costa Rica Protect Sea Turtles
Source: Sea Shepherd The history of Paul Watson and Costa Rica began a new chapter this month, but this time there are no INTERPOL notices or outstanding arrest warrants making the news. As people in Costa Rica were celebrating Independence Day on September 15th, the Sea Shepherd Conservation Society published a press release announcing Operation Pacuare, an effort to protect the sea...
Dangerous Terciopelo (Pit Viper) Bite in Costa Rica (VIDEO)
A few months ago, The Costa Rica Star published an article that described an unusual situation: Last year, a 40-year old man found himself naked in a lush rainforest of Costa Rica. He was looking for something to eat when he disrupted the habitat of a large terciopelo (fer-de-lance) snake, which he proceeded to kill with a stick. The killing of the reptile, which you can watch here, was filmed by...