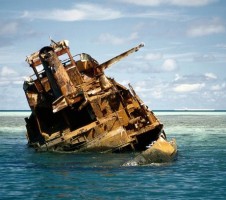 Marine archeology is quickly emerging as the next, big investment opportunity. With professional exploration companies developing more sensitive and detailed underwater search equipment, the odds are increasing of a huge payday for some and reclamation of precious artifacts for many countries and their museums.
Sonar detectors and sophisticated radar have replaced the swashbuckling eye patches and bottles of rum from days gone by. But the adventurers on the high seas today are after much larger conquests. The largest shipwreck salvage companies are now using the same type of tools used by big oil firms to locate deep sea drilling potential. The most expensive projects, usually in very deep waters, can cost upwards of $30 million dollars to complete.
"There are multi-hundreds of billions of dollars of potential in this industry," says Sean Tucker, founder and managing member of Galleon Ventures, a U.S. shipwreck and salvage exploration company. "Treasure bearing ships that have historical artifacts, coins, and emeralds dating back hundreds of years, lying at the bottom of the sea just waiting to be brought to the surface", he adds.
UNESCO estimates there to be as many as three million shipwrecks scattered across the bottom of the world's oceans. Although Tucker points out that only 3,000 of these are likely to bear treasure of any value, recent discoveries such as the $3 billion of platinum located on a World War II merchant vessel by Sub Sea Research, confirm the industry's potential.
Dr. Lucy Blue from the Centre for Maritime Archaeology at the UK's University of Southampton, voices concern about the methods of some smaller operators in the industry. She says that some companies plunder sunken wrecks without concern for their archaeological and academic value, leading to the destruction of important sites.
"When you dig a hole in the ocean you are effectively destroying the archaeological evidence. If you don't do that in a systematic way you are destroying important knowledge of past maritime activities. You have to question ultimately what is happening with what is found. Are the artifacts held in a collection that people can benefit and learn from or are they being distributed and sold for the profit of a few?", says Blue.
Not only is this frustrating from an academic perspective, she adds, but it also ensures that important monuments to maritime history are kept locked away in the hands of private collectors.
But there is value to salvage companies in the long term to cooperate with international laws and to work to the highest ethical and archaeological standards. Given the considerations of shareholders and private investors, Tucker says:
"There's nothing worse than taking your investors money and then having a government tell you can't keep the treasure you've found," he says.
He also cites his own company's work with the government of Colombia where they are negotiating a "host country contract" to explore various underwater wrecks, divide the profits of any treasure recovered as well as providing items of significant historical importance to national museums and galleries as a responsible and productive way to conduct the recovery efforts.
An agreement between Florida based Odyssey Marine and the British government to locate the wreck of the 17th century ship HMS Sussex is an example of how private businesses and sovereign countries can cooperate to their own mutual benefit.
Mark Gordon, president of Odyssey, says at least 100 ships on their watch-list are known to have values in excess of $50 million dollars.
In May of 2007, Odyssey reported they had salvaged what could be the richest shipwreck treasure in history at the time, bringing home 17 tons of 400-year-old silver and gold coins worth an estimated $500 million from an undisclosed site in the Atlantic Ocean.
"We have treated this site with kid gloves, and the archaeological work done by our team out there is unsurpassed," said Odyssey's chief executive, John Morris. "We are thoroughly documenting and recording the site, which we believe will have immense historical significance."
The company also salvaged more than 50,000 coins and other artifacts from the wreck of the SS Republic off Savannah, Georgia, in 2003, making millions of dollars.
Previously, the richest ever reward was recovered from the Spanish galleon Nuestra Señora de Atocha, which sank in 1622. Mel Fisher, the treasure-hunting pioneer, found it in 1985 off Key West Florida, retrieving a reported $400 million in coins and other treasure. However, the sterncastle of the ship, believed to be carrying the bulk of the treasure, has never been found.
Sources: CNN, New York Times, and National Geographic.