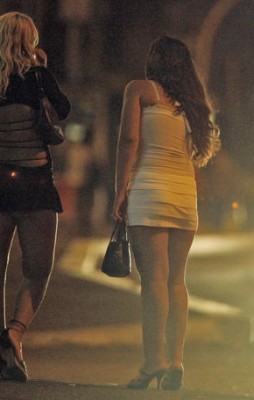 Note: This article is written by someone who has worked as a bartender in Jaco Beach for many years, sharing his thoughts and experiences. It contains opinion and is meant to offer you a different perspective on your trip to Jaco.
Behind the shadows of the nearly ever present sun and underneath the grains of beach sand, in the eyes of the smiling faces that try to sell you a fishing trip or a 4×4 excursion and in the corners of every hotel and bar, lies the secret to Jacó's providence. Prostitution (in abundance) is the economically beneficial evil that sustains this small Costa Rican beach town. And its financial dependence on this dark fact is much greater than most members of the local populace would care to admit.
If you take a look at other beach towns in Costa Rica, you'll see that during the off season they are virtual ghost towns. Jaco is the only tourist driven coastal town where the majority of the bars, restaurants, hotels and activities remain open through the worst part of the rainy season. Part of this is due to Jacó's proximity to San José, the other half is due to its stability in sexual tourism.
Even when the town of Jacó is almost dead, the most successful Working Girls are still making decent money. This translates into a small economic stimulus. The girls can still afford to buy drinks in the bars and go out to eat, which keeps establishments open and the employees receiving a paycheck. A certain type of tourist, one that I call "The Hooker Hunter" (many of which are Ticos from San José who don't want to be seen going into Hotel del Rey) also help to keep the bars and restaurants in business during the slowest parts of the year. But the Hooker Hunters don't really contribute to the rest of the town's tourist economy. You most likely won't see them surfing or going on an ATV tour or waterfall hike. No, they are in Jacó for one thing: sex with beautiful young Latina women. And there are plenty of them for sale all year around.
A lot of guys are bit too shy to approach a beautiful prostitute without an added confidence booster and many of the Working Girls can't do what their profession requires without consuming heavy doses of shame inhibitors. For this reason, along with sex, comes an abundance of Cocaine and other drugs like GHB and Ecstasy. With drugs come crime and violence. Most of the violence remains in-house, factions of the many different drug dealers fighting amongst each-other or lessons being learned about debts owed. Violence in Jacó rarely affects the average traveler. The crime is normally petty theft. Wallets, cellular phones, cameras and computers etc. are the common targets.
Most of this type of crime is committed by washed-up hookers that are no longer physically able to compete with the new young talent that arrives almost every day. On top of this, whoring tends to be a career path that doesn't promote many viable job skills that are useful in other markets. So what's left for a used up prostitute when she's not attractive enough to get men to regularly pay her for sex? The answer is theft; a new iphone can easily go for 800$ in Costa Rica. Cha-ching, she just made rent.
The dangers of purchasing sex reach far beyond the possible acquisition of an STD or the fact that your significant other may find out about your purchased infidelity (hopefully not by way of an STD). So, if you are thinking of going on a trip to break whatever sexual monotony it is that you are feeling, whether it is just from San José to Jacó or from North America or Europe to Costa Rica or Thailand, here is some advice that should be taken seriously.
Never take working girls or working guys, for that matter, back to your personal hotel room or apartment; in Jaco, there are 24 hour motels for only $30. If you absolutely must take your living sex doll back to your room, lock up whatever valuables that you can into the room's safe. Prior to bringing the girl over, put other larger valuables like laptops out of sight. Things like watches, phones, ipads and wallets can go missing in a hurry. Often times they are taking mental inventory of your possessions and making the assessment of whether or not it will be worth the trouble of having their boyfriends and pals come over and rob you for real (she now knows where you are living). I have seen this happen more than once.
When you go out shopping for sex, leaving your phone and other valuables back at the hotel is a good idea. Just take a copy of your passport and an amount of cash that wouldn't ruin you if it turns up missing. For Jaco, Costa Rica, $200 should be sufficient. $100 for the prostitute, $30 for a motel to do your business in and $70 for taxis and drinks etc.
Ask the bartender or security guard to point you in the right direction. They might be able to show you some of the more trustworthy girls. They most likely can't vouch 100% for any of them, but they are going to know which ones have had the most customer complaints. Plus, using a bartender or other as a medium of introduction may give the prostitute the idea that you are friends with some of the locals and Jacó is a small town, so robbing referred customers is bad for business.
If you should run into a problem, like the girl trying to get out of having sex with you but still wanting to be paid for her time, just give her the money. It is not worth the trouble. Most of these 3rd world countries are legally geared to protect the little person. I've heard hookers brag about how they got out of working by spraying mace in the clients face, ripping their own shirt and slapping themselves in the face when the client refused to pay for her time. One phone call to the cops and you're screwed.
"Well, why is her shirt torn and why did she need to mace you?" they might ask as you are being hand-cuffed.
If you ever do decide to take part in the multi-million dollar sexual tourism industry, be sure to heed my advice. If you do, you will most likely have the experience that you were expecting.