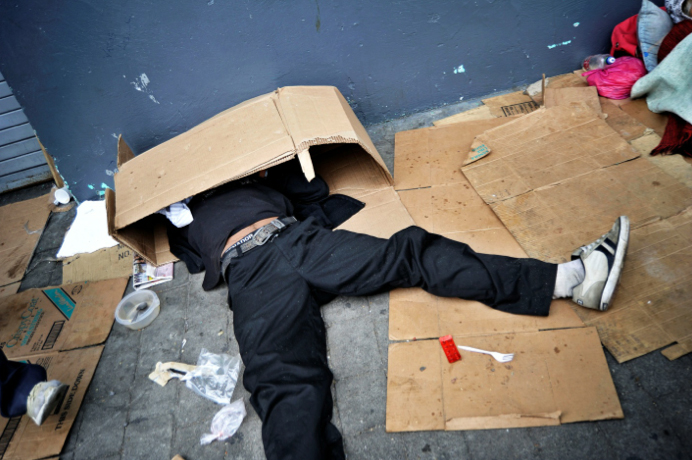 It's 9 am in San Jose, Costa Rica, a cold day and not many cars mark the end of a battle for survival, where only the lucky ones, the strongest and the brave ones wake up to another day on the streets of the "Suiza Centroamericana".
Costa Rica is a country where tourism promoted by our natural beauty is the standard to an 
unprecedented paradise. However, we suffer many illnesses as all cities in the world: drug addiction, alcoholism and prostitution, mark what we have accepted as "our present".
The experience of walking through the streets of San Jose begins at the Santa Ana bus stop on 16th Street, amongst garbage and the normal activity of a Sunday morning, the homeless "Josefinos" are slowly waking up and adjust their boxes or bags and search through dumpsters, watch cars or beg depending on the mood caused by the crack hangover.
Each commercial store raises its metal curtains to make way for another day of work, while buckets of water are filled with chlorine and soap to clean the sidewalks in front, trying to remove the stench of many homeless people who urinate and defecate in front of them. A process that is repeated and repeated over and over, day after day.
Moving closer to the old Libano Cinema, the indigent situation is much more critical, abandoned lots and unused structures are used as homes for many Costa Ricans who lives on the street.
"I know a lot about the Bible and being here is not written in it" a friend said who prefers anonymity. "I have not eaten in three days, give me something," he says. 
He tells me that he spent many years in the "Refor" (Centro Penitenciario la Reforma) because of problems with the demon.
"I was about to kill a guy, the devil told me to kill him with a knife in the bathroom, but that was where I saw Jesus and fell to the floor, thank God I did not kill him, otherwise I would still be in prison" he recalls.
His story is similar to many others that we hear out there, the devil is a part of their lives ever since they started their addictions, some with alcohol, some marijuana, pills or cocaine, some at age 11, others at 13, some older.
Others came to the streets because of family problems, because of the neglect of their parents or their children and the discontent of society that hides behind its illness by ignoring them. But everyone knows one thing "being here is not nice."
"I am from Turrialba, and here I am stuck in this. I'm embarrassed but I can't get out." Said another friend.
On the side of an oil change shop, at least 30 people sleep on the sidewalk, the situation is just as critical on 8th Street and 10th Street. It's not safe to walk through these streets, it's not safe at all to live on those streets where life is worthless.
According to the Costa Rican authorities, San Jose is home to more than 2000 people addicted to crack.