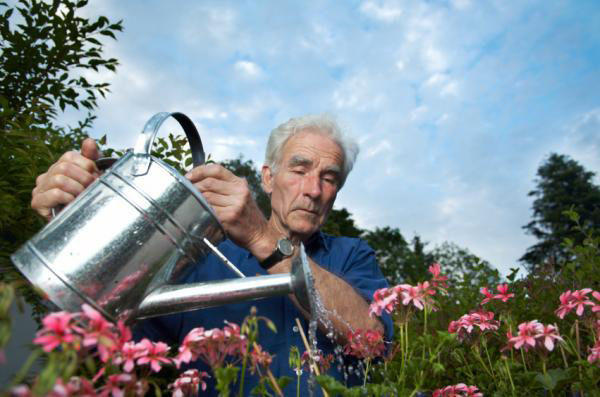 SANTA ANA – The most senior man in Costa Rica celebrated his 112th anniversary on this Earth with a birthday party at the TGIF restaurant in Escazu on Saturday, March 10. Jose Uriel Delegado Corrales is a resident of a senior living center located in Piedades, Santa Ana. Don Jose Uriel's birthday party also served to celebrate the noble work of the senior living center that is managed by pious women. He was the first resident to be admitted at the center in Piedades, and it is believed that he managed to outlive his relatives, for prior to his arrival his sole means of survival was the kindness of strangers.
Don Jose Uriel's birthday party, which was covered by Teletica, serves as a reminder of a longevity trend in Costa Rica that has been studied by demographers and geriatric experts in recent years. He is very special in the sense that he lived the 20th century in its entirety, and is sufficiently lucid to marvel at Costa Rica well into the 21st century. His age makes him a unique Tico in the Central Valley, but he would not seem out-of-place in the Guanacaste region of Nicoya, home to the most centenarians in our country and a certified Blue Zone.
Blue Zones Around the World
In a recent interview with the Mercury News of the Silicon Valley in California, American explorer and educator Dan Buettner explained that the longevity rates in places like the islands of Okinawa and Sardinia in Italy, along with Loma Linda in California and our own Nicoya are remarkable. Mr. Buettner has been researching these areas, labeled as Blue Zones by demographers, since 2004.
Mr. Buettner arrived in Nicoya in 2007, and his expedition was made possible thanks to grants by National Geographic and the Allianz Life Insurance Company. His research in Nicoya was followed by the American television network ABC, as well as TV personalities Oprah Winfrey and Dr. Oz. The issue of longevity has been of importance to both Oprah and Dr. Oz since it is closely related to health and quality of life, something that they both advocate among their loyal viewers.
What's interesting about Nicoya and her status as a Blue Zone is how the word first got out among the scientific community. Writing for ABC News in 2007, Mr. Buetnner mentioned the work of Dr. Luis Rosero-Bixby, a Tico demographer whose research shows that middle-aged Ticos enjoy one of the greatest life expectancies in the world. Mr. Buettner set out to confirm Dr. Rosero-Bixby's claims and traveled to the Nicoya Peninsula, but he did not stop at the beach to interview the surfers or the rich and famous who live close to the Pacific Ocean. He headed inland to the cattle ranches and savannahs where life seemingly goes on at a very slow pace.
The Longevity Secrets of Nicoya
Living a long life in Nicoya is hardly about hitting the three digits; it's about getting to an advanced age with dignity and vitality. In Secrets of the Blue Zones, an online feature presented by Oprah and Dr. Oz, Dan Buettner recounted his findings in Nicoya -an area he thinks may be the biggest Blue Zone in the world.
In Nicoya Mr. Buettner interviewed centenarian great-grandmothers who still chop and gather wood to fuel their ancient stoves. He also met a female entrepreneur who at the age of 86 was selling tamales that she prepared herself, and a man who at the age of 95 was cruising along the dusty roads of his village on a bicycle. He then moved from the savannahs into the jungle, where life is even slower. There he met a man who was 107 years old and considered the first longevity secret of Nicoya: hard water.
Hard water is rich in minerals, something that Dr. Oz states helps to create strong bones thanks to the high concentrations of calcium and magnesium. Healthy bones means improved mobility and a lesser chance of fracture when falling down at an advanced age. People in Nicoya get many healthy minerals by drinking water and eating the vegetables that were irrigated with the same water.
Nutrition
Like in other parts of Costa Rica, the diet of Nicoyans consists mainly of rice and beans, chayote and other assorted fruits and vegetables. They eat four or five times a day, breaking up the breakfast, lunch and dinner cycles with coffee breaks and gallitos (small snacks).
Physical Activity
Another fact of life in Nicoya is the implied heightened level of activity. Dr. Oz and Mr. Buettner were impressed at the amount of effort involved in making tortillas from scratch -and we mean from scratch as in taking corn to the metate (mortar and pestle). According to Dr. Oz, that's quite the workout.
Mr. Buettner explains that the constraints of our modern lives make us think about exercise in an erroneous manner. When we kill ourselves at the gym and engage in extreme workouts we are placing our bodies under stress and undermining longevity. Dr. Oz then examined a farmer who at 99 years of age was still pulling weeds with his bare hands and wielding a machete with skills. He was impressed by the farmers' quadriceps, as well as his leg and abdominal muscles.
Lifestyle
In his interview with the Mercury News, Mr. Buettner mentioned the importance of downshifting in order to avoid chronic stress. Our centenarians in Nicoya strongly believe in Pura Vida and a sense of community. It's important to have friends, to exercise faith, to get good sleep, and to have an overall positive outlook in life. Just ask out writer Nadine Hays Pisani, who is Happier Than a Billionaire and will probably lead a very long life here in Costa Rica.
Take the island of Okinawa for example, where life is very different from that of the greater island of Japan. The radical work ethic of the salarymen of Tokyo is not something that Okinawan people embrace. In fact, a U.S. diplomat once described the people of Okinawa as lazy, something that eventually cost him his position at the State Department. Okinawa may be the poorest region in Japan, but it's also home to a culture of longevity and good life.
Caring for our Elderly
The fact that many North Americans arrive in Costa Rica looking to improve their quality of life is not a secret. Recent statistics compiled by the national census indicate that the elderly population in Costa Rica is increasing, while the birthrate is decreasing; surprising statistics that The Costa Rica Star has written about in the past.
The senior living center where Don Jose Uriel resides is part of a recent phenomenon in our country, whereupon working Ticos face many economic pressures and aren't able to care for their children and their parents and grandparents at the same time. This is a new fact of life that necessitates more housing solutions for seniors. Late last year we wrote about the involvement of Miss Costa Rica Johanna Solano in raising awareness and funds for senior communities.
The last piece of the longevity puzzle is that the community must be involved in caring for the elderly. Living a long life is only appealing when others are involved in providing happiness and comfort.