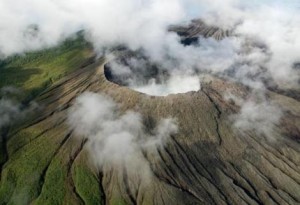 If you happen to be in Guanacaste while traveling in Costa Rica, you should definitely visit the Rincon de la Vieja National Park, one of the most ecologically diverse areas in the province. It will be the perfect opportunity for you to check Volcan Rincon de la Vieja, one of the country's few active volcanoes.
The last eruption took place on September 16, 2011, and access to the crater is still limited, but don't worry, as no dangerous activity has been recorded since then, and ironically, the steam present in the volcano is a sign that it is not building up pressure for a future large eruption.
Amongst the 6 volcanoes (Cerro Chato, Orosi, Rincon de la Vieja, Miravalles, Arenal and Tenorio) present in the Cordillera de Guanacaste, Rincon de la Vieja (6286 feet high) is the most accessible. Interestingly, this National Park is in the middle of the Caribbean and the Pacific sides of this mountain range, with the Caribbean slopes of the volcano being green and wet, and the ones from the Pacific being drier.
The diversity of flora and fauna in the park is quite impressive, as this is the habitat of birds such as the Black-Faced Solitaire, Spectacled Owl, Blue-Crowned Motmot, Laughing Falcon, the Emerald Toucanet, Blue-Throated Goldentail, Whitefronted Parrot, Red Trogon and the Montezuma Oropendola.
Mammals in the park include the Spider Monkey, White Face Monkey, Howler Monkey, Sloths, Peccaries, Armadillos, Tapirs, Cougars and Jaguars. You will also find a lot of Guaria Morada orchids, which are the national flowers of the country, and Guanacaste Trees, a species that is only found in the northwestern part of Costa Rica.
Within the park there are many walking and hiking trails, which you can either walk through or take a horseback ride through. Along these trails, you will notice breath-taking waterfalls, relaxing hot springs, different designated picnic areas, and the volcanic lagoon. Park rangers will help you with information on how to reach all of these different stunning spots. Though if you decide to go on your own, these trails are well marked with signals to where they lead to. A few of these trails can be quite long, with the one leading to the La Cangreja waterfall extending for 5 kilometers, and the one leading to the Cataratas Escondidas extending for 4.3 kilometers.
The best time to visit this National Park is between the months of May to November (known as the green season), as this is the period when mud pots and fumaroles are constantly in activity. Getting here is relatively easy once you have arrived to the Daniel Oduber Quirós International Airport (or to Liberia City if you are coming from SJO in San Jose). If you are renting a car, just take the road from Liberia to San Jorge and from there straight to the park. The 25 km trip can take approximately 45 minutes.