Football Hooliganism on the Rise in Costa Rica
A well-behaved La Doce displays fan devotion Since the early afternoon of Thursday, October 23rd, the national police force of Costa Rica kept watch outside the Ricardo Saprissa Stadium in the suburbs of San Jose. Mounted police and special units of Fuerza Publica assembled hours before the match between the Deportivo Saprissa and the Sporting Kansas City, the latter of the United States Major...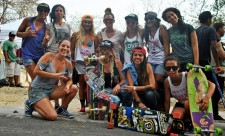 Fearless Beauties: The Longboard Girls Costa Rica Crew (VIDEO)
Riding longboard skateboards in Costa Rica is nothing like surfing the Gold Coast beaches of Guanacaste. There are many more obstacles to negotiate on our dangerous roads, and skateboard wipeouts tend to be quite painful and will often result in weeks of road rash. Such matters do not seem to affect the Longboard Girls Costa Rica Crew, who actually enjoy hairpin turns that lead to downhill surpris...
Las Ticas Deliver a Goal Fest: Costa Rica 6 – Martinique 1
At the CONCACAF Women's Championship being decided in the United States, the National Women's Football Team of Costa Rica are shining very bright on their way to the 2015 FIFA World Cup in Canada. They are not only undefeated but also scoring at will, and they are looking strong going to the semifinals against their next rival, the national team of Trinidad and Tobago. Of special note in this rout...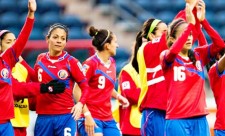 Costa Rica 2 – Jamaica 1 in 2015 FIFA World Cup Qualifier
Once again, Las Ticas have made their country proud with a 2 -1 victory against their Jamaican counterparts in Illinois. Shirley Cruz once again proved why she is one of the best professional female strikers in the world, and Raquel Rodriguez put the final and swift kick to advance our national team to the CONCACAF semifinals on the road to the 2015 FIFA World Cup in Canada. A word of caution: Our...
Costa Rica 1 – Mexico 0 in 2015 FIFA World Cup Qualifier
In Kansas City last night, the Costa Rica National Women's Football Team, fondly known as Las Ticas, proved that they are ready to bring back as much glory as their male counterparts by getting one step closer to the 2015 FIFA World Cup in Canada. The following video and press release courtesy of CONCACAF: http://youtu.be/VN_V_5ChZRw KANSAS CITY, Kansas -- Costa Rica scored an early goal and...
Is Jogo Bonito Making a Comeback? We All Hope So
Source: FEDEFUTBOL Over the last few days, the National Men's Football Team of Costa Rica, more commonly known as La Sele, has asserted Costa Rica's rightful rank as one of the top nations playing the world's most popular sport. The hasty and complicated departure of coach Jorge Luis Pinto, labeled as FIFA as the leader who made Costa Rica fly at the 2014 World Cup in Brazil, left doubts in th...
National Men's Football Team of Costa Rica in Oman
Source: CONCACAF Following a lengthy period of air travel that lasted nearly 24 hours, the National Men's Football Team of Costa Rica, affectionately known as "La Sele," arrived in the oil-rich Sultanate of Oman, a nation that is strategically located along the southern and eastern coasts of the Arabian Peninsula. La Sele may be a long way from home, but at least one star player was not able t...
Costa Rica Seeks to Prove FIFA Standing With Friendly Matches
The National Men's Football Team of Costa Rica, affectionately known as "La Sele," is looking to justify the all-time high FIFA ranking, currently at the 15th position, by scoring victories against the national teams of Oman and South Korea in October. Following La Sele's surprising performance at the 2014 FIFA World Cup in Brazil and after securing the Central American Cup, expectati...
Mixed Martial Arts Will Benefit Education in Costa Rica
Source: Wikimedia Commons Starting next year, a television and mixed martial arts (MMA) event production company based in Spain will commence donating a portion of its profits towards the acquisition of books and computers as well as for the construction of small schools in Costa Rica and other nations. The company is Batalla MMA Fight Entertainment, and the proceeds donated will be managed by...
Costa Rica Sort of Makes It Into FIFA 15 (VIDEO)
One of the most popular video game franchises in the world recently released its new version and gives a slight nod to the incredible progress that Costa Rica has made on the international football scene. As reported by Zacks Equity Research and Yahoo Finance, Electronic Arts' (EA) FIFA 15 is now leading the video game sales charts in the United Kingdom, with retail purchases making up to 80 perce...